In A Fall Outfit Rut? Tap These A-Lister Looks For Ideas
Rosie Huntington-Whiteley is a good starting point.
@rosiehw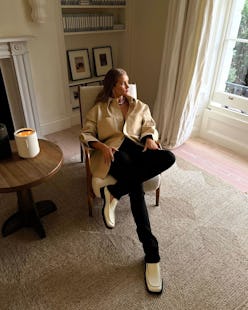 We may receive a portion of sales if you purchase a product through a link in this article.
Summer has its perks: you get sunny weather, countless beach days, and the opportunity to wear breezy dresses 24/7. However, fall is full of upsides as well, even if it eventually leads you into a bitter cold winter. Come autumn, you can go apple picking, binge-watch Gilmore Girls, enjoy the red-orange foliage, and rediscover your love for all manner of knits. But if you're feeling utterly unprepared to shift your wardrobe with the seasons, don't worry: you'll find more than a few fall outfit ideas to try just by looking to your favorite celebrities.
Should you count yourself a fan of Sofia Richie Grainge's style (and who doesn't these days?), you'll be inclined to channel several of her cozy looks, including a shearling jacket and jeans combo. The whole look is easy, practical, and timeless — exactly how everyone wants to dress in cooler temps. Meanwhile, if you have an eye for color and texture, you may want to borrow fashion tips from Kerry Washington, whose suede-on-suede forest green outfit is ideal for early September weather.
The return to brisk forecasts offers the chance to have fun with layering cozy pieces, so don't feel boxed in by a simple sweater and jeans pairing. Read ahead for several stand out autumn looks to try, all inspired by your favorite stars.
Knit Dress & Tall Boots
Rosie Huntington-Whiteley is known wearing neutrals in the most interesting, unexpected ways. She does this by mixing different textures together — think knits and leathers — and incorporating unique silhouettes like this padded shoulder strap dress.
A Leather Jacket & Jeans
Stay cool and casual like Grainge, whether you're going out to dinner or meeting up with friends for a coffee. All you need to channel her vibe are jeans, a brown leather jacket, a fuzzy beanie, and chunky brown boots.
Cable Knit Cardigan & Patterned Scarf
We love how Laura Harrier injected some cheerful colors into her rather subdued cream-colored cable knit cardigan and tan turtleneck outfit. Add a pair of thick gold hoop earrings and you'll have the comfiest look to wear when you hang out on a boat — or, you know, commute into work.
Blazer & Jumpsuit
If you're not interested in wearing a dress, but want something just as quick and easy to throw on, follow Jennifer Lopez's lead and opt for a jumpsuit. Make the staple feel a little more polished by adding on a blazer, belt, and heels.
Suede On Suede
Fall is a great time to break out all your favorite suede styles. Instead of wearing a Canadian tux, opt for this material in your shirting and pants — or in Kerry Washington's case, a top and boots combo complete with short shorts.
Oversized Sweater & Ankle Boots
Without a doubt, an oversized sweater always works for autumn. Dress yours down with jeans or go the Ashley Graham route by styling your knit as a dress (if it's long enough!) with an equally as oversized button-up shirt and platform ankle boots.