The Street Style At Australian Fashion Week Will Serve As Your Style Inspo For Summer
Revel in all the maximalist moments.
Hanna Lassen/Getty Images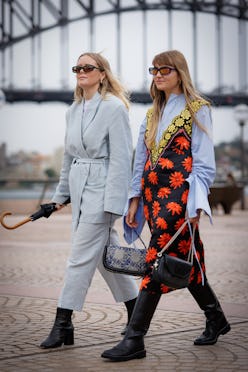 For the fashion history buffs, here's a quick lesson on how the infamous Fashion Week(s) began. The first New York Fashion Week was held in the Big Apple in 1943. Due to its success, NYFW was followed by Milan Fashion Week (1958), and then Paris Fashion Week (1977). After these showcases gained traction in Europe and America, Australia became the third country to participate in the week-long event in 1996. A decade and a half later, fans are still flocking to Australian Fashion Week (for Resort 2023) and the street style looks will provide plenty of outfit inspo for summer.
This year, AAFW runs from May 9 to May 13 with brands like Bec + Bridge, Romance Was Born, and Orton on the show schedule. These labels have filled their collections with what will be the biggest trends for spring and summer: cutouts, bright colors, sheer garments, and over-the-top prints. Fashion Week attendees have followed suit with their own outfits, sporting on-trend and innovative ensembles for the occasion. Influencers Sammy Robinson and Brooke Hogan went for monochromatic looks while stylist Fleur Egan paired unexpected primary colors together. Meanwhile, fashion editor Teanne Vickers found the balance between high-fashion and casual, athletic wear.
Ahead, you'll find the best street style looks from Australian Fashion Week. Don't miss a single moment.
Day 5
When in doubt of what to wear to important (but causal) events, show up in a zebra print shirt and a bright bag for a look that'll guarantee you a few compliments.
Coco shades were everywhere for AAFW and these guests dived right into the trend.
Never underestimate the power of a good suit. This guest wore a blue Henne set and carried a Christian Dior Book Tote.
The fashion tip here? To tone down a pair of statement pants, simply style with neutrals.
Akira Isola proves that when you commit to wearing a color from head to toe, the resulting look can be magical. Isola wore a pair of Scotch and Soda pants, The Hippy shake vest and a Bassiq necklace.
The cutout trend was alive and well at AAFW. Malaan Ajang styled her sensual red top with a pair of flared brown pants.
Kika Lateef's outfit gave off Clueless vibes, but with an edge.
Day 4
As seen in Kirsty Sturgess' AAFW look, short-shorts are quickly becoming an It girl staple. She layered a sequin blazer over the barely-there bottoms.
Monochromatic outfits don't have to be boring — instead of matching neutrals with neutrals, this AAFW attendee wore coordinating shades of pink.
A Canadian tuxedo is every fashionista's go-to for an effortlessly cool look. Suzy Eskander polished her denim ensemble with a pair of strappy sandals from Bottega Veneta.
Extravagant prints can complement each other, as proven by this high-fashion duo. Malaan Ajang Torrance stunned in a timeless paisley-printed mini dress, while Aiyana Alexander Torannce looked chic in a leopard maxi dress.
If you want to spice up the traditional pantsuit, Shontina Rose's formula is sure to do just that. Skip out on the top and style a lace bra underneath a cropped blazer, instead.
For the minimalists who are seeking to try out maximalism, the oversized Peter Pan collar, coupled with a print, is the perfect way to give bold dressing a try.
In an effort to make rain boots stylish, Violet Grace Atkinson sported her chunky pair with a hot pink miniskirt, chunky navy sweater, and a puffer jacket.
Jess May brings the '80s to AAFW in this bold purple jumpsuit. She kept the entire look nostalgic, completing the ensemble with chunky platforms and oversized sunglasses.
While yellow is typically a summertime color, Millie Ford proved it can be worn year round with this transitional trench coat.
Day 3
Rain boots can be stylish, too, as seen in Prue Webb's AAFW look. She sported a pair of heeled weatherproof shoes with long shorts and a trench coat.
Not ready for the low-rise jeans trend? Try styling a low-rise maxi skirt with a crop top instead.
For warmer days, take a page out of Holly Titheridge's style book and wear a chic vest in lieu of a blazer with your trousers.
If you're unsure of what to wear for a girl's night out, turn to these two AAFW attendees for inspiration. Your BFF can opt for a fringe LBD while you can show up in an oversized leather blazer (sans shirt) and leather pants.
Ruby Stephens ingeniously layered a patterned sweater vest over an all-green look for a refreshed take on the preppy garment.
As seen in Charlene Davis's AAFW ensemble, you can't go wrong by mixing and matching bold patterns. She didn't forget about the small details either, as she matched the hot pink buckles on her Givenchy top with a pair of bold pumps.
This fashion-forward duo opted for layers on Day 3 of AAFW. Harriet Sutherland wore a pastel blue Acne Suit while Georgia Wolff styled a patterned Meryll Rogge Dress over a classic blue button-down.
The rain didn't stop this cool-girl from assembling a high-fashion look. She kept it sophisticated by layering a trench coat over a pleated, strapless white dress.
For AAFW attendees, green was the It color for Day 3. Kate Waterhouse sported the hue, wearing a textured maxi dress from Aje.
Kirsty Sturgess debuted the summer-alternative to the trendy opera glove, matching a pair of leather mid-length gloves with flared leather pants.
Day 2
The formula for this sophisticated ensemble is simple: layer on a variety of blue tones to create a cool-girl look.
Emerson Conrad stuck with the basics by sporting an all-black look from head to toe.
Olympia Valance proves you can be both feminine and edgy in this mini dress and a pair of fold over-inspired leather boots.
Ash Gratsounas confirmed her admiration for the brown color trend in this coordinated pantsuit.
This matching beaded dress and bag moment confirmed that retro beads are always in style.
Violet Grace Atkinson revealed just the right amount of skin in this Patchouli Studio top.
Stylist Fleur Egan paired primary colors together by styling a blue tube top with a red maxi skirt.
Teanne Vickers kept it sporty in a Staud leather jacket, loose-fitting trousers, and yellow athletic sneakers.
This attendee created the perfect balance between laid-back and elevated styling with an oversized leather button-down and a pair of baggy blue jeans.
Model Nikki Phillips wore an '80s-inspired look by rocking a pair of extra-wide flared jeans from Toni Meticevski.
Day 1
Sammy Robinson went with a monochromatic look from her brand, One Mile The Label, for the first day of Afterpay Australian Fashion Week.
These coordinating ensembles by Holly Titheridge and Brooke Hogan confirmed that it's time to pull out your transitional outerwear.
This Afterpay Australian Fashion Week attendee went bold, pairing the unlikely combination of orange with yellow.
Influencer Maxine Wilde wore the Loewe dress you've seen everywhere, including on Kendall Jenner.
This fashionista wore a sophisticated ensemble from Aussie label Bec + Bridge to attend the runway shows.
Model Gemma Ward stunned in a fringe dress by Australian fashion house Romance Was Born.
Stylist Chloe Hill was spotted in a maximalist's dream gown by Romance Was Born.
Olympia Valance's Fendi dress confirmed that pink and orange complement each other perfectly.
Nawal Sari's outfit proves there's no such thing as too much color. She styled a jacket from Romance Was Born with hot pink platforms, a patterned silk headscarf, and a teal Valentino bag.
Zahli Napier leaned into the cool tones by styling a light blue button-down with a pair of teal slit pants. She added depth to the look with a magenta and blue Missoni shawl.
This article was originally published on