Did Hailey Bieber Just Give Us A Preview Of Her (Low-Key Genius) Halloween Costume?
Translation: Major hair moment ahead.
@haileybieber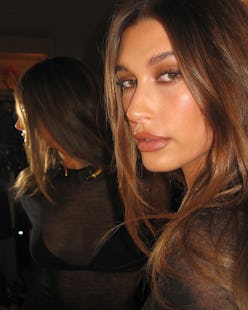 Hailey Bieber might have helped popularize that modern version of elegant minimalism known as quiet luxury, but that doesn't mean she doesn't love getting loud during a loose, private moment. All September long, the Rhode beauty baron's been hard at work promoting new products in her skin care line, traveling to Tokyo and New York for model-muse engagements, and chatting up crowds of fans. But what about when she's off-duty? Bieber's pink bob with bangs, a funky-looking wig just shared as part of an Instagram photo-dump, could be several things (a disguise, a costume, a silly moment) but above all, it's a hair color fans thought Bieber would never try again. Consider it a pre-Halloween prayer answered — pink-haired H.B. lives, even if only for a night.
The thing is, Bieber's tried bubblegum-colored hair before, which is what makes this wig look so exciting. Most recently, she wore temporary hair dye for an Allure photoshoot, but has stayed true to more natural shades — including her current cinnamon cookie butter — ever since. While she didn't offer any context as she shared the new photo on Instagram, many fans speculate it was taken in Japan where Bieber was celebrating the opening of a new Tiffany & Co.
Currently, there are a few theories floating around about the real story behind that bold, pink wig. First of all, there's a solid chance that Bieber simply didn't want to be recognized and implemented a low-key disguise to throw any Beliebers off the trail while she and her husband explored Tokyo. Another possibility is that she was simply enjoying an inside joke with friends — someone brought the pink bob or encountered it, and Bieber threw it on for pictures and a laugh.
With Tokyo as a backdrop, though, the pink wig immediately evokes the one Scarlett Johansson wears in Sofia Coppola's Lost In Translation in one especially memorable karaoke scene.
Maybe Bieber was just playing homage to a movie she watched on the plane ride over, maybe she's already trying out Halloween ideas for the big night — which is only six weeks away, not to totally alarm you. If you're still figuring out the best clever-meets-sultry costume, follow Bieber's lead and explore key moments from your favorite movies. Or just get meta and be Bieber herself, a tiny Rhode peptide lip balm in-hand at all times.