Here's How Tracee Ellis Ross Feels About Going Through Perimenopause
A glass-half-full mentality is always best.
@traceeellisross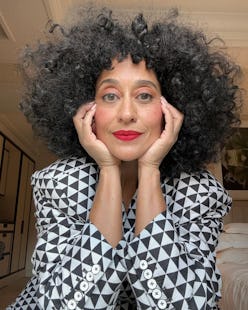 On the Jan. 9 episode of Glennon Doyle's podcast, We Can Do Hard Things, actor Tracee Ellis Ross got very real on what it's like to be 50, single, and going through perimenopause. The episode was called "How to Make Peace in Your Own Head," something Ellis seems to be excelling at.
In October, the Pattern Beauty founder turned 50 — and that led to biological changes, too. Namely, perimenopause, the period of time leading up to menopause. Ellis Ross said her body has become somewhat of a foreign place to her "that doesn't really feel safe or like home." She continued, "And I don't know how to manage or control or fight the external binary narrative of the patriarchy that has haunted me and haunted me most of my adult life. Is it my fertility that is leaving me? Is it my womanhood? Or is it really neither?" She added that she's just trying to figure out what that means since her ability to have a child is leaving her. "But I don't agree that that's what 'fertile' means; I don't agree that that's what 'woman' means," she explained.
In other words, Ellis Ross has realized that not having a child does not make you any less womanly or motherly. "I say this to people all the time: I'm a wonderful mother," Ellis Ross said. "And I'm very mothering. And it's been hard for me to claim that. … I'm grateful to be able to look at it with curiosity instead of heartbreak." She said that when the heartbreak does come up, she gently and lovingly holds the feeling and reminds herself, "I woke up every morning of my life and I've tried to do my best, so I must be where I'm supposed to be.'"
Even though Ellis Ross aspires to be coupled up, she's embracing her single status in the meantime. "As a result, I get to curate my family, my chosen family around me," she said. "And I don't think I realized the gift of that until I've started to get older."
Ellis Ross also recently appeared on the Today show and talked about what it's like to be 50. "I think I'm the sexiest I've ever been," she said. "I feel fantastic and I feel like the world is my oyster." Some of her goals include writing a book and finding a lifelong partner. "Listen! He's gonna come, he's not gonna come — in the meantime I'm gonna live my life and have a ball," she said. What great words to live by.