It's Been 15 Years Since This Teen Comedy Revolutionized The Micro Miniskirt
Was Anna Faris the original Barbie? Costume designer Mona May says yes.
Happy Madison Productions/Kobal/Shutterstock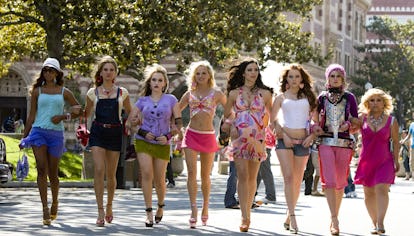 It's been 15 years since Anna Faris so generously offered this piece of advice in The House Bunny: "The eyes are the nipples of the face." Faris' turn as Shelley Darlingson, the discarded-Playboy-Bunny-turned-sorority-house-mother, was comedic mastery at its finest. The film, written by 10 Things I Hate About You and Legally Blonde screenwriting duo Kirsten Smith and Karen McCullah, sees Shelley transform a group of misfit sorority girls into campus hotties so they can attract new pledges and keep their house. The endearing ditz act, the Lucille Ball-level physical comedy, the Exorcist voice Shelley uses to remember people's names — Faris does it all fantastically, and in 7-inch platform stilettos, no less. Which brings up another major factor to the film's now cult status: The fashion in the film is just as fun to watch as Faris' performance.
Costume designer Mona May, who famously dreamed up Cher Horowitz's yellow tartan skirt suit in Clueless and Romy & Michele's reunion mini dresses, was behind the over-the-top Y2K costumes of The House Bunny. She put Faris in teeny tiny mini skirts, colorful bikinis, bedazzled stripper heels, and sequin crop tops while masterminding the epic makeover montage of Zeta Alpha Zeta, the socially awkward sorority house that included emerging talents Emma Stone, Kat Dennings, Rumer Willis, and Katharine McPhee. The film also featured cameos from Hugh Hefner and his then-girlfriends Holly Madison, Bridget Marquardt, and Kendra Wilkinson, who starred on the reality show The Girls Next Door (and May went through their personal closets at the mansion to dress them for the scenes).
To create Shelley's look, May found inspiration from real Playboy Playmates. Even though she was a Bunny, and the tops were cropped and the hemlines were high, May didn't want the lead character to ever look vulgar. "I really wanted to avoid that," May tells TZR. "To me, that was really important because at the end of the film, she finds her soul." Through the costumes, she wanted to convey Shelley's sweet, innocent, and likable persona, so she used a lot of happy, ultra-girly colors and details, like little bows, rhinestones, hearts, stars, polka dots, and the aforementioned micro-mini skirts, including a plaid pleated one, which could be thought of as a Clueless Easter egg. "I had to pay homage to myself somewhere in there," May laughs.
As we all know by now, the mini skirt is a House Bunny signature piece that has popped back up in the fashion trend cycle in recent years, with celebrities like Hailey Bieber, Kendall Jenner, and Julia Fox all embracing its sky-high hemline. Nicole Kidman also controversially donned Miu Miu's tiny top and pleated skirt set for Vanity Fair's 2022 Hollywood Issue. "Who doesn't look good in an A-line pleated skirt?" asks May. Other favorites from the House Bunny and Y2K era have made their return to the fashion zeitgeist, such as the bedazzled butterfly crop top that Mariah Carey favored back in the day, and Shelley wears during the slow-motion walking scene when the girls reveal their makeover. More recently, Olivia Rodrigo, Saweetie, and Vanessa Hudgens have all been seen in modern versions of the sparkly winged design.
May says that The House Bunny was one of the more challenging films to work on because she had to create three different looks for each sorority sister. "It was like Clueless on steroids," says May, referring to the mass transformations involving the seven sisters. "When we start the movie, they were sort of like the ugly ducklings until Shelley teaches them how to be girly and popular and get the pledges." The different looks consisted of the nerdy, pre-Shelley outfits, the makeover outfits, and the final part of the film when the sisters decide to be "half Shelley and half who we really are." There were around 30 wardrobe changes for each girl, which meant May had to create a whopping 210 outfits for just Zeta Alpha Zeta alone. Meanwhile, Faris herself had a total of 72 outfit changes. (For context, Alicia Silverstone had 64 as Cher in Clueless.) The House Bunny is truly one of the more underrated fashion films when you really think about it.
In creating the different looks for the sisters, May made sure each of them was still consistent with their own personal style. For example, the character of Mona, played by Dennings, was sort of a patriarchy-hating tomboy, and May took her from baggy pants, masculine shoes, and an oversize T-shirt that said "legalize castration" to a mini skirt and high heels, but still kept her in a punk tee and fishnet fingerless gloves. Carrie Mae, another sorority sister who is an awkward farm girl (the scene-stealing Dana Goodman) starts off wearing baggy denim overalls, but gets made over with a sexy version of the look: a denim pinafore dress. And who can forget how she bedazzled the back brace belonging to Rumer Willis' character? (Funny enough, this is the second character with a back brace that May has dressed, the first being Lisa Kudrow in Romy & Michele's High School Reunion.)
"I always take things to the 10th and 11th levels, and I never stop," says May. "Coco Chanel says you have to take one thing off, but I think these movies are so layered and fun, when you're doing these makeovers, you want to see the difference." The clothing featured custom designs from May, such as Dennings' purple and silver bustier party dress, Stone's bejeweled white "virgin sacrifice" bikini, and the shredded red skater look Shelley wears during her centerfold shoot. Others were sourced from a variety of beloved mall brands and retailers, such as Victoria's Secret, Aldo, Urban Outfitters, Juicy Couture, Marc Jacobs, and Gwen Stefani's now defunct L.A.M.B. line. The silver Playboy bunny necklace that Faris wears in the film is from Spencer's, and Trashy Lingerie, an L.A. institution, was behind many of Shelley's custom-made pieces. (In fact, you can still purchase the yellow Goldilocks camisole set that she wears during her birthday party scene, in case you're starting to look for a Halloween costume.)
In a 2022 video filmed for Glamour, Faris showed off pink and white bedazzled platform heels that she kept from the film, saying that everybody should own a pair because "they make you feel all powerful." (The actor brought home four pairs from the set.) "She loved the shoes. I don't know how she knew how to walk in those shoes, but she was a champ," says May. In the same video, Farris also talked about how May had the dressing room decorated with a pink couch and heart pillows to help her feel like she was in character. "It was literally like being in the summer camp," May says of the fittings. "Everybody was laughing and pointing at each other, like, 'What are you wearing? I love it!'" Farris also talked about how at first she felt uncomfortable in the skimpy outfits, but something shifted and she ended up feeling "really good" wearing the clothes. May says that Faris was very instinctive at the fittings and knew how to figure out what worked for the scene. "It was like dressing Barbie. In a way, she was kind of like the original Barbie," she adds.
Overall, May is grateful to have worked on a project where she could bring her talent and knowledge to such a sweet story while feeling connected with other women creatives, like Faris and the writers, Smith and McCullah. "To me, it was a movie about friends, girlfriends, and sisterhood, and how to support each other through all these different journeys that we take, the good ones and the bad ones," she says. "And you know me, I love any kind of makeover."