Marc Jacobs' Mad Dash Of A Show Was A Subtle Critique Of ChatGPT
This review was not AI-generated.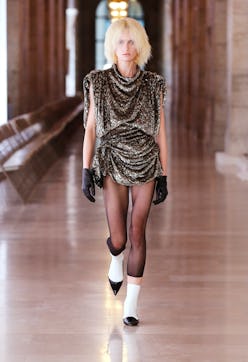 It was over before I knew it. In under two minutes, 29 models beelined down the runway only to then quickly pivot and return to backstage. And that was that — the show had ended. Editors gaped at each other in disbelief, brows were raised, chuckles were heard. For those who have attended Marc Jacob's shows in the past, this performance is not much of a surprise. Marc Jacobs is notable for setting strict standards at his shows: prompting attendees to arrive at least fifteen minutes early, starting right on the dot, staging the event in utter silence. Make no mistakes, this move was an intentional one.
What the purpose was, I can only assume. But the speedy affair did cause a reaction. As I looked through the Fall 2023 show notes, written by OpenAI's ChatGPT, I has my guesses as to why the models moved through their marks so quickly: Perhaps it was a reflection of the breakneck speed in which fashion designers are expected to create a collection season after season, or how ephemeral trends and aesthetics are now with the ubiquity of social media. Or maybe, the answer was simply that Jacobs just really had to be somewhere (I did see him jetting out the back parking lot in a bottle green Lamborghini just minutes after the show). But it is worth nothing that the rate in which ChatGPT synthesizes and generates content is a matter of seconds, much like the length of this event. Oftentimes the technology misses the essence of the subject at hand, producing verbose and often times cliché language. You're left to wonder: "What did I just read?" In this case, however, the question was, "What did I just see?".
Despite the hasty way in which they were displayed, the clothes did hold their own. While Jacobs predominantly utilized the colors black and white, there was range in the fabrics and craftsmanship of the garments. From artfully draped mini dresses that were offered in sequins as well as a sheer catsuit layered under a car coat, the pieces within the collection seems to pay homage to the brand's latest campaign star, Debbie Harry. The glam team appeared to have taken notes from the Blondie front woman as well: hair stylist Duffy and makeup artist Diane Kendal, who are both Jacob's go-to for glam each season, created looks that consisted of a teased out platinum mane (fitting for the sweltering humidity outside) and striking cherry red lips — both hallmarks of Harry.
Breaking up the sequence of short hemlines, was a series of oversized menswear blazers with loose trousers and nipped jackets with parachute pants. The majority of the looks were styled with pointy toe flats and stark white crew socks; many of the micro minis were also anchored with sheer black leggings. And while these key pieces were plenty practical, not much else was — a juxtaposition that is common in the styling of Jacob's shows.
For the veteran designer like Jacobs, the catwalk is never just about clothes. It's also a place to share one's commentary on what is happening in both the industry and world. As we enter this stage of AI technology with a future very much unknown, one can only remember that the thoughtful work of a person cannot be replicated (at least yet) — and, like all good things, creativity takes time. Only once we slow down are we able to feel human again.