Taylor Swift Returns To Her Forest Witch Ways With This Woodsy New Nail Color
Time for t-h-e-o-r-i-e-s.
MEGA/GC Images/Getty Images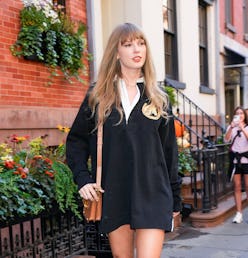 A wise, entirely too-hardworking woman once sang "every bait and switch was a work of art." She was purportedly singing about her then-boyfriend, but the most dedicated stans know that the only thing Taylor Swift loves more than pulling off a last-minute change-up to keep the people guessing is embedding secret clues about all of it in seemingly-mundane places. Since her Eras Tour first kicked off back in March, she's used her ever-changing nail polish to clue Swifties in on which of her Taylor's Version re-recordings is set to drop next. But Swift's dark green nails might have just thrown a wrench in all the speculation — and set the stage for an entirely new, completely thrilling theory.
Swift was spotted in the fall-friendly, forest-green nail color as she and her gaggle of besties stepped out for a girl's dinner in New York City. Joined by friends like Selena Gomez, Sophie Turner, and fellow Kansas City Chiefs W.A.G. Brittany Mahomes, she wove through the streets in a flippy Miu Miu skirt and stacks of Jacquie Aiche jewelry. Swift's dark green polish, neatly applied to her short, natural nails, were illuminated by the paparazzi camera flashes and she held her friends' hands and guided them to and from the restaurant. It's the first time she's been seen with her nails painted any color since her last Chiefs game appearance — she did red glitter, of course — and the first time she's worn green as a solo shade in years.
Gotham/GC Images/Getty Images
Gotham/GC Images/Getty Images
Speaking as a series-A Swiftologist, here's exactly when this woman has worn green nail polish in recent memory. There was the metallic version she wore to play Saturday Night Live in 2017, Christmas-themed red-and-green nails in 2019, and an electric shade of lime in 2019, coincidentally also worn to an SNL taping. Beyond that, green's appeared in her multicolored Eras Tour-themed nails to represent her self-titled debut album. But this green is decidedly darker and far moodier than the cheerful shade of sage usually used to represent her first-ever Era. In fact, this is a type of green in only one other Swift-specific place before: the combined Folklore-Evermore eras of 2020. Though their official colors are signified by gray and brown respectively, this earthy green was everywhere: the "Willow" cloaks, the pine trees, the merch. Did anyone else shell out $60 for the (absolutely foul-smelling) "Cowboy Like Me" candle wrapped in this exact color?
And this brings me to the entire crux of this theory. Folklore got a special film and accompanying acoustic album that went behind-the-scenes on her writing process, but Evermore was never so lucky — fans are still crying out for its own version of the Long Pond Studio Sessions. As the weather gets colder and decidedly more...Evermore, hopes always rise that this will be the season she drops the music movie on us. This really could be the year, though. Consider her Eras-themed nails from the "Karma" music video, featured below. Conventional wisdom dictates that Reputation (Taylor's Version) is next because the black-lacquered nail follows the blue one, but look where the clock hand actually lands:
It stops in between 11 p.m. and midnight — which sure makes it look like something else is coming, sandwiched between the just-released 1989 (Taylor's Version) and the yet-to-be-announced Reputation. Perhaps it's the re-recording of her debut album, maybe it's finally going to be Evermore's turn to get even a scrap of attention, or maybe it's something else entirely.
It can't just be because she — like so many similarly stylish stars — is loving dark green nail polish at the moment, right? Right?