It's Hard Not To Stare At Sydney Sweeney's Trippy New 'Quarter' Nails
They look different from every angle.
@sydneysweeney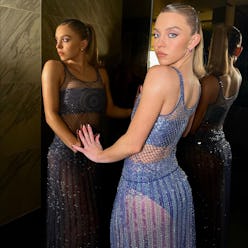 It was only a matter of time before Sydney Sweeney replaced her beloved French manicures with something just a little bit bolder. The "Anyone But You" star has always appreciated the power of a color-heavy trend, but she's actually an early endorser of this about-to-take-off craze that's already won over fellow celebrities like Adele and Kelsea Ballerini. After months of pastel tips, cutesy nail art, and the traditional pink-and-white colorway alike, she's fallen for a new Hollywood favorite that takes the classic look and remixes it for a whole new generation. At first glance, Sweeney's green nail design looks like those cool, linear-style graphic manicures that were especially in-demand in 2020 and 2021. But take a closer look and you'll notice that Sweeney's fingers actually feature a quarter-panel of color against her nude-pink nail beds — just a fourth of each nail is painted, like half of her French manicure magically disappeared.
This particular design has become a recent signature of celebrity nail artist Zola Ganzorigt, the mind behind the "glazed" chrome polish trend, among others. In Sweeney's case, one half of each nail tip is coated in a deep, goblet-green shade with a seasonally-perfect blue undertone while the rest is the same sort of baby pink usually seen in the original French manicure style first made popular in the 1970s.
Crucially, to add a luxe element to the entire look, Ganzorigt placed a single, itty-bitty gold bead at the center of the nails, right at the corner of those colored panels. The gleaming piece of metal also helps drive home the optical illusion factor, heightening the effect that makes it look like one piece of the nail has vanished.
It looks like Ganzorigt developed this new design relatively recently, and it's already taking off with her A-list clientele. Most recently, Adele wore a black-and-nude version to one of her sold-out concert weekends, the inkier shade fading into the shadows from some angles to make the singer seem like she was missing half of her nails.
Let her and Sweeney's looks be proof that no matter what color you choose — Ganzorigt herself just tried it out in a fiery red — this is one manicure that will always command double-takes.