The Haircuts On Succession Are Almost As Significant As The Dialogue
It's all coming together.
Photograph by Zach Dilgard/HBO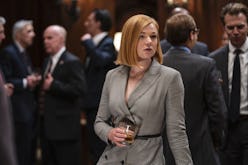 Sometimes a cigar is just a cigar, but the painstaking planning that goes into every frame of Succession ensures that no haircut, color, or style is ever accidental. The same way each character's wardrobe has subtly progressed over all four seasons of the HBO Max juggernaut, eagle-eyed viewers can grasp everything from a character's personality to their (often covert) motivations through hair, too. Succession's hairstyles and haircuts are more than just polished complements to sharp suits and corporate-couture blazers — they're tea leaves that fill in narrative gaps, and give serious clues as to where the series could be heading in its final weeks.
While the show's top hair moments belong almost exclusively to the female characters, Cousin Greg's classic cut is actually a great example to put it all into context. When first we meet the ever-bumbling Greg, his sloppy sideburns and tousled hair are very much in line with who he is at the time: a consequence-skirting, amusement park flunky. As he ascends the corporate ladder, his haircut gets palpably more expensive, styled with shiny pomade and a laser-precise part. With a bit of clever styling, Greg's power-hungry nature is revealed.
Not every top hairstyle on Succession is necessarily so loaded, but they are all notable. Below, some of the show's greatest hair hits to look back on as the series prepares for its final moments — and yes, spoilers abound.
Gerri Kellman's Chignon Collection
As Shiv Roy's godmother, it makes sense that Gerri Kellman would lead by example in more ways than one. When Shiv chopped her hair at the start of season two (more of that just below), it was a copy-paste of Gerri's own cut. What's interesting, though, is how Gerri's hair journey's progressed over the four seasons. In so many settings, both corporate and social, Gerri's seen with her blonde hair pulled back into classic chignons. Just before the moment she decided to stop her subservience to House Roy, though, she started wearing her hair down and free-flowing — she grew it out, too.
Rava Roy's Baylayage
As the series draws to a close, every glimpse of Rava Roy (and her incredible caramel highlights) becomes all the more meaningful. While Rava's always been super chic, she's been largely concerned with raising her children totally solo — as we've seen, her soon-to-be ex-husband is more than a little absentee. But as she creates boundaries and starts dating again, her hand-painted highlights, concentrated toward the front of her voluminous curls, appear.
Siobhan Roy's Power Bob
Or a grab-for-power bob. When audiences first met Shiv at the show's premiere, her crunchy-granola wardrobe of oversized knits and baggy paints paired perfectly with her long, air-dried waves and Hill-adjacent advisor job. But by season two, when she fully committed to joining the family business, she was armed with a sleek, blunt-cut bob and a tailored wardrobe to match.
Naomi Pierce's Millionaire Mullet
She came, she served, she vanished. Fan-favorite tertiary character Naomi Pierce might have only appeared in a few frames of the current Succession season, but her surprise cool-girl haircut surprised everyone tuning in. Between seasons three and four, Naomi got her chin-length micro-bob shaped into a tapered take on the modern mullet. Though it's likely this is the last we've seen of Pierce, her mullet will endure.
Willa Ferrerya's Curtain Bangs
True Willanators know she'll still be standing no matter how things shake out for the rest of the Roys — and how could she not thrive with her ultra-trendy layered haircut, curtain bangs, and ultra-fine babylights? Willa's always had an of-the-moment hairstyle (she's definitely paying attention to all things now), but it's only gotten more polished as she gains access and financial power. As it stands, her razor-cut layers are feather-light and face-framing, a look recently endorsed by Emily Ratajkowski. Actually, they would probably have mutuals in real-life, right?