Your Guide To Succession's Billionaire Skin Care — Both Real & Imagined
You can't tell me Gerri's not a La Prairie loyalist.
Photograph by Claudette Barius/HBO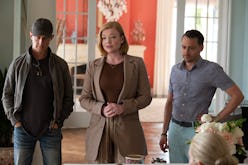 When you're death-wrestling with ogres — or reading documents, whatever — you're never fully prepped for a boardroom battle without a few essentials. Luxe, tailored garments are an essential, natch, lest you be clocked for your Zara blazer and subsequently humiliated. Blustering confidence might be the most important piece of the puzzle, regardless of whether it's real or feigned, deserved or demanded. The most underrated tool in the WASP nest, though, might be a well-maintained complexion. Viewers have caught glimpses of some Succession characters' skin care products in fleeting bedroom-bathroom scenes, and the striking sense of "Yeah, that tracks" accuracy just opened the door to more speculation. Like, of course Shiv Roy is a documented Tatcha stan — imagine her patting it on with one hand while the other flicks through endless unread emails.
As the show draws to a (some might say premature) close, there's obviously only one question any true Succession fan cares about: How the hell does Gerri's skin look so amazing all the time, even with the constant air travel? Below, one fan's exploration of both the canon and speculative skin care routines of everyone's favorite foul-mouthed billionaires — along with some of their slightly-less-privileged sycophants.
Siobhan (Shiv) Roy
Incisive yet insecure, Shiv's skin care routine is the result of several derm visits, tons of late-night Reddit trawling, and a reject product pile taller than Tom. Tatcha's trademark purple tub, The Dewy Cream, was perched on a bureau in an early Season 4 scene and makes sense for several reasons. Along with the clinically backed efficacy, Tatcha's Japanese origins are a major pull for Shiv. She's up on all the latest FDA cosmetic ingredient regulations and finds them completely lacking, especially compared to their East Asian counterparts. It's part of why she refuses to use any sunscreen manufactured or sold on American soil — she doesn't play about her mineral formulations.
Kendall Roy
Another source material-confirmed product was spotted in Kendall's bathroom, once again proving that the show set designers are the real geniuses. In an apartment bathroom shot, a bottle of Augustinus Bader The Rich Cream can be seen sitting on the counter. Of course a man who once demanded "the best airplane doctor in the world" would be all-in on products thought to be among the most high-tech out there. Actually, get him going on any sort of upper and it's not a stretch to imagine a five-minute monologue on "what you don't seem to grasp about TFC8 technology."
Willa Ferreyra
Make way for the It-girl — if anyone's had even a vaguely enviable arc on Succession, it's Willa. Sexy, smart, and semi-talented, the character is not only extremely well-versed in what's new and now, but actively goes for only the coolest brands. Willa's an indie beauty girl with a cabinet full of Gen Z-approved and celebrity-brands products like Futurewise, Shani Darden, Topicals, and RANAVAT. It's all secondary to her tretinoin prescription, though — Connor's not the only one holding down one percent. She was nearly successful at getting him into slugging, too, until he learned there were no actual slugs involved.
Gerri Kellman
When Gerri slinks onto the scene, probably cocooned in something neutral-toned and deliciously silky, the Succession episode essentially becomes an hour-long Try Not To Say Mother Challenge (impossible). Gerri's always-luminous complexion is enough to remind anyone to stop skimping on SPF, but the General Counsel would never let anyone see how much work she actually puts into keeping it up. A legacy employee, she must stick to only the luxest classics: maybe a Sisley-Paris eye cream, La Mer's hydrating foam cleanser, and certainly some La Prairie Skin Caviar.
Connor Roy
Connor Roy was interested in politics at a very young age — so it stands to reason he's been lurking around the more...esoteric corners of internet forums, particularly those frequented by a growing faction of right-wing health nuts. Trust me on this: Connor is absolutely using pure beef tallow on his face in lieu of any traditional moisturizer. Seed oil-fearing Twitter users claim this is the real key to baby-soft skin that dermatologists "don't want you to know about." Sounds like the sort of hot tip Conheads would love.
Kerry Castellabate
Even with a billionaire benefactor and possible baby-daddy in her corner, Kerry lives and dies by the mini-sized products in the Sephora cash wrap. While her backstory is still largely TBD, she seems to have striver in her DNA — which means her favorite skin care products are sample sizes of whatever's popping off at the moment. Or, more likely, whatever was popping off a few months ago because she's only getting to it now. Can't you just picture her bangs shuffling around in a small studio off the JMZ, her minuscule sink littered with YouTuber-sponsored serums of the past?
Roman Roy
Over his dead body would Roman want anyone to know he has a skin care routine — imagine all the pornographic joke possibilities — but boy does he have one. The thing about Roman, though, is while his morning and evening regimens are bound to be intense, they're filled with reliable Old Faithfuls. Kiel's and CeraVe are work horses, not show ponies.