This Haircut Is Still So Controversial, But Cardi B's Version Is Actually So Glam
Arturo Holmes/Getty Images Entertainment/Getty Images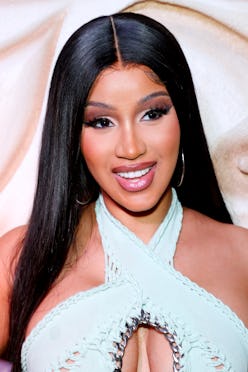 Cardi B's commitment to versatility should be studied by every celebrity in Hollywood. Totally unique in her ability to infuse even the most over-the-top trends with her distinctive, fun-loving energy, Cardi's kind of an all-time spokesmodel — if she wears it, drinks it, or dances to it, the masses will follow. Her penchant for more avant-garde looks extends far beyond her always-noteworthy fashion choices, though. Cardi B's also always willing to put it all on the line with an exciting editorial hairstyle or elaborate manicure, often igniting or accelerating beauty trends along with way. Just look at Cardi B's mullet from the Clive Davis pre-Grammys gala this past weekend — did you ever think you'd see her name in the same sentence as mullet anything? Unsurprisingly, the risk paid off.
For the star-studded pre-Grammys party, which was attended by other A-listers like Lizzo and Beyoncé, Cardi went with a leather-and-lace Roberto Cavalli gown that felt like a glammed-up take on Old West motifs, complete with saloon gloves and gator skin dappling. To match the daring dress, she opted for an equally-exciting hairstyle: a wet-look mullet with choppy bangs, the tapered ends trailing down her shoulders and neck. The elaborate, highly-detailed hair comes courtesy of Tokyo Stylez, iconic wigmaker and stylist to the industry's biggest names.
Though a rather unexpected look on Cardi, mullets — and a few variations on the mullet — are enjoying a major moment right now. In the past few months alone, Charlize Theron shocked fans when she traded in her platinum pixie cut for a choppy, jet-black mullet and Emma Watson experimented with a mullet-pixie hybrid, with plenty of celebrities incorporating elements of the mullet into new styles. The TikTok-trendy "octopus haircut", in fact, shares more than a little DNA with the classic business-in-the-front look.
While it's probably safe to say that mullets won't be adopted en masse any time soon, their rising popularity is proof that self-expression is more "in" than any haircut. And Cardi B, with her fearless and playful attitude, deserves some serious credit for that shift.