Augustinus Bader's Retinol Serum Promises Results Without Irritation
TZR beauty editors put it to the test.
Courtesy of Amanda Ross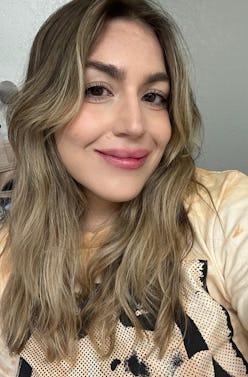 We may receive a portion of sales if you purchase a product through a link in this article.
In our series Trial Run, TZR editors and writers put the buzziest new beauty products to the test and share their honest reviews. This week, TZR's beauty team is testing Augustinus Bader's The Retinol Serum.
No skin care product in recent years has garnered more intrigue and fanfare than Augustinus Bader's The Cream. Created by one Augustinus Bader, a German professor and doctor who is a leading expert in the field of regenerative medicine, the origin story of the brand's proprietary Trigger Factor Complex (TFC8) is beauty industry folklore. Stemming from Bader's background in stem cell technology, the complex is comprised of amino acids, vitamins, and peptides, which reignites dormant skin cells so that skin can self-regulate and heal. Since debuting The Cream and its The Rich Cream counterpart in 2018, the brand reached cult-status. It's since created a full skin care range, body care products, and has even expanded into hair care, all with TFC8 at the heart of the formulas. Now, Augustinus Bader has launched The Retinol Serum, a highly requested product from fans.
"For The Retinol Serum we wanted to create a formula that offered the efficacy of traditional retinols that could also be used by wider consumers, those with more sensitive skin, or who have been nervous to try a retinol due to fears of irritation, redness and discomfort," Professor Augustinus Bader tells TZR. "We sought to create a formula that was gentle yet effective. Our TFC8 technology works in synergy with the pure retinol and the rest of the ultra-hydrating, restorative ingredients in the formula to bring real, visible results without irritation or redness."
A retinol serum that delivers results without any retinoid uglies along the way is enticing, so TZR's beauty team, who all have various levels of experience with the ingredient, put it to the test. Keep reading for our honest reviews of the one of the buzziest skin care launches of 2023 – so far.
Fast Facts
Price: $350
Size: 30 ml/ 1 oz
Clean/Cruelty-Free: Yes
Best For: Those with acne, uneven skin texture, and dark spots
Ingredient Highlights: Retinol, TFC8, marine ectoine, zinc complex
What We Like: Absorbs quickly; non-sticky; feels hydrating
What We Don't Like: Pricey
Rating: 4/5
How TZR Keeps Score: 1/5: Making a return; 2/5: Keeping as a backup; 3/5: Finishing to the last drop; 4/5: Recommending to my group texts; 5/5: Already on auto-replenish
The Formula
Like the name implies, the formula's hero ingredient is pure retinol, a stabilized vitamin A derivative which promotes cell turnover in order to reduce breakouts, minimize acne scarring, improve the appearance of fine lines and wrinkles, plus balance oily skin and overall texture. TFC8 is also present to help the skin heal and regenerate. According to Professor Bader, the serum contains %0.06 pure retinol to avoid side effects like redness, dryness, and tenderness.
"This percentage was carefully calibrated to work efficiently in combination with our proprietary TFC8, Trigger Factor Complex TFC, and the formula was thoroughly tested ensuring it delivers optimal, clinically proven efficacy without irritation or dryness, allowing more users to benefit from retinol without compromising on results," he says.
Marine ectoine, Japanese knotwood extract, a microbiome blend (manuka, black pepper, and magnoli extracts), and a zinc complex play a supporting role in the serum. Together, these ingredients help treat inflammation, protect against environmental stress like UV and pollution, hydrate, and kill acne-causing bacteria.
Like the rest of the brand's products, The Retinol Serum comes in its signature royal blue tube with gold lid and includes a holder so it sits upright on your vanity.
Our Experiences & Results
Erin Lukas, Deputy Beauty Editor, TZR
"As someone in their mid-30s who is hyper-focused on maintaining the current youthfulness of their skin and minimizing dark spots from old breakouts, retinol is a staple in my skin care routine. However, while my skin isn't sensitive, it's temperamental and often reacts negatively to high concentrations of vitamin A. So, it's taken a ton of trial and error over the years to find gentle yet effective retinol products.
As a huge fan of Augustinus Bader's The Cream, I'm happy to report The Retinol Serum hasn't let me down. The silky-smooth texture glides onto skin like a dream and absorbs rather quickly without any stickiness. Despite usually erring on the side of caution when introducing new retinol products to my skin care routine, I went straight ahead and used the serum nightly without any issues. However, I did experience an eczema flareup caused by dry desert air during a work trip to Morocco, so I hit pause on the serum for a few days while I healed my skin. Fast forward to roughly two weeks of using the product, and I've noticed my skin is overall smoother and the stubborn post-inflammatory hyperpigmentation on my chin is a lot lighter. (I'm wearing no-base makeup in the photo above aside from a bit of blush on my cheeks and a touch of concealer around my nose.)"
Faith Xue, Executive Beauty Director, BDG
"I've tested many a retinol in my day (I thank my skin my skin for being tough like that) and I was looking forward to the new version from Augustinus Bader, a brand that has produced many of my favorite products (The Cream and Cleanser are two of my holy grails). I admit, I was surprised that AB decided to launch a retinol given that it used to tout The Cream as a do-it-all product that negated the need for a retinol — but my curiosity got the better of me. The packaging is sleek and I appreciate that the slim tube comes with a stand to help it stand upright. The serum itself looks and feels like other retinol serums I've tried — a telltale bright yellow and a light cream-serum formulation, it was enjoyable to use at night before moisturizer and didn't leave any residue behind. After a few days of using it consecutively, I felt like my skin looked a bit smoother and didn't show any signs of dryness or flaking. Because it has the added benefit of containing brand's proprietary TCF8 complex, it's a great retinol option for anyone who's looking for their serum to deliver serious anti-aging benefits without irritation."
Jessica Fields, Beauty Writer, TZR
"Being new to retinol, I was worried I'd be ambushed by all the common side effects like burning and dryness. So I took caution, but to my surprise, I had zero negative reactions aside from a tiny bit of redness the first week. The serum is lightweight, gentle, and seamlessly absorbed into my skin. Following my toner, I added it to my nightly routine and finished with moisturizer. After the second week of use, I noticed my skin felt plumper and looked a tad more even-toned."
Amanda Ross, Beauty Editor, TZR
"I had to pause my usual retinoid use for the past several months as my skin acclimated to isotretinoin, but I finally got the OK from my dermatologist to reincorporate it in March — perfect timing for Augustinus Bader's launch. I tested the new serum out on my very parched skin, but also applied it to my hands as an extra measure. The serum was actually ideal for easing back into retinol as there was zero irritation or increased dryness, which was something I was a bit worried about. While I haven't trialed it long enough to notice an improvement on fine lines, it does make for a considerably smoother and brighter complexion the next morning. As I ramp back up my regular retinoid schedule, this is the perfect product to bridge the gap — I'd call it an essential for those looking to ease back into a retinol or retinoid, as well as an ideal starter serum."
Is Augustinus Bader's The Retinol Serum Worth It?
There are countless retinol serums on the market at various price points, but it can be hard to decipher which formula is right for your skin – whether you're entirely new to retinol or in the market for one that won't turn your skin into dried up Elmer's School Glue. So Augustinus Bader's The Retinol Serum provides a safe option for those who want to indoctrinate themselves into benefits of retinol, but don't want to deal with the potential side effects. In other words, you might spend $350 on multiple serums only to find that none of them work. So why not cut to the finish line with this serum first?