Celebrity Aesthetician Shani Darden's Favorite Way To Unwind Involves Reality TV
TZR; Stefanie Keenan/Getty Images for Shani Darden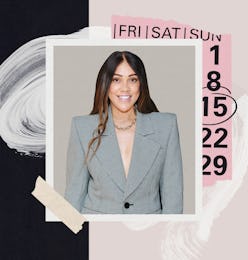 We may receive a portion of sales if you purchase a product through a link in this article.
In TZR's franchise Scare-Free Sundays, industry leaders discuss the all-too-common weekend anxiety (aka Sunday Scaries) that can rob one of the relaxation and rest they so desperately need to properly take on the week ahead. Here, we sit down with Shani Darden, celebrity aesthetician and founder of Shani Darden Skin Care for her tips on how to keep weekend work stress at bay.
It's rare to find Shani Darden at home midday on a Thursday, but alas that is exactly where she is when I check in via Zoom on a chilly February afternoon. The aesthetician is looking cozy and comfortable in leisurewear, radiant skin (a given), and the easy smile of someone who's basking in the peace of a few precious hours all to herself. So, what does a beauty juggernaut do with her time?
"I'm watching Vanderpump Rules," says Darden matter-of-factly. "I'll probably sit and think about what I'm going to eat for dinner for a lot of hours, people will call me from work for sure. Once they know that I'm here — because they don't — that'll be a whole thing. My kids will be here at 3:30 p.m. But I'm just going to live life, comb my hair, and do nothing."
While this may seem a typical way to spend an unexpected day off for some, I quickly learn that this is truly a rare occasion for the New York native. Weekdays (with the exception of Mondays, which she typically takes off) you'll likely find Darden in her sleek and modern Beverly Hills facial studio, or taking meetings and planning around her hugely successful eponymous skin care brand. The aesthetician explains that, over the years, she's developed a basic work structure that allows her to better balance her time between work, motherhood, and everything in-between. But, even then, things can get murky and crazed for the sought-after talent, whose A-list clients include the likes of Jessica Alba, Shay Mitchell, and — wait for it — Beyoncé.
"I plan Tuesdays and Wednesdays [for just] facials, but it just doesn't always work that way," says Darden of her weekly routine. "But I have a rule that I will never work a Sunday. I have turned down a million very important people. I'm not coming in, and I don't care. Wait, let me take that back. I do think maybe I came in for Beyoncé, but that's different. You know what I mean?"
We all know what she means.
These protective logistical boundaries are there to keep anxiety at bay, but Darden says it still manages to find its way in. Juggling her multiple careers, which are on equally rapid upward trajectories, and a personal life is a daily challenge that she admittedly is not always winning. Which is why, on this kismet Thursday that finds her at home with no meetings — save for our call — Darden is choosing sweatpants and reality TV.
Ahead, the entrepreneur gets real about all things anxiety and how she keeps her mental health in check even in the most chaotic of moments.
Talk to me about work anxiety. What does that look like for you? When does it most frequently hit for you?
I have anxiety pretty much every day of my life. The only time I'm probably not anxious is when I'm giving facials. It's more (present) with building the brand. I have anxiety with that. That's stressful.
Is that because building a skin care brand is presenting uncharted territory for you?
Yeah. I think the anxiety comes [from being in this world] where you want to stay authentic, and you see all these brands that aren't. For me, the anxiety comes [from wanting to] make this [brand] better because I don't want to just make something to make it. And it's really hard in the space we're in now because there's so many brands. Everybody has a brand. And for me, it's what I do. I went to school for it. I work with people all the time. I get anxious about that. It's harder for me, I think, to put out a product than for somebody else that may not necessarily know skin the way that I do.
Do you feel like you often overthink things?
Yeah. And also, I just don't want to put a product out if it's not going to be something new. Because if you look at how many brands have a vitamin C [formula], how many of those are different? What's different about the nine million you [have to choose from]. You know what I mean? I'd rather just not put it out then. And so that becomes hard because I still have to. I'm in Sephora. I have to have launches. I find that really tricky for me and probably my most anxiety-causing part of it all.
So how do you combat those intrusive thoughts and feelings as they're coming on and putting all that pressure on you?
I'm so fortunate. All my clients obviously believe in me enough that they all try [everything I create]. That's what pushes me. Yeah, I don't know if there's a way for me not to be anxious over that, it's just what it is.
Any secret power product, practice, or mechanism you do in the name of relaxation or self-care?
I wish I could say yes. I've really fallen off so much. I think exercise for me was a big thing to calm me down, and I haven't been exercising. In general, I'm not a very calm person. I think hanging out with my friends is always awesome, and I try to do that at least on Sundays if we have people over. But in general, no, I can't remember the last time I took a bath. I could try it. I'd probably just have anxiety taking the bath. I think my calm place is probably being with my friends.
Also, I used to do EMDR, which is tapping. I will still tap away sometimes. It's not like I practice the whole routine. But, if I were panicked, I will just tap.
Would you say that's a strict rule you abide by during the weekends or OOO days? To make time for your friends and family? Any others?
I'm really, really, really terrible. I've been trying to not be on social media as much because it always depresses me. I've gotten a lot better. Part of the reason it's harder for me is that I answer every DM because so many people are messaging me about the trouble they're having with their skin, and so I'm very obsessive.
When do the Sunday Scaries kick in for you?
I think for me, because I suffer from anxiety in general, I have that feeling only when I'm not working. Only because I've been working so much, I'm actually in a good space today. But if I were to just sit home, that is when I have the most anxiety. For me, I get my release in working.
Do you allow for vacations?
Yes. And I do turn off on vacation. We just went to Cabo. That was super fun. And we went with three other families. That was awesome. That was one of our best vacations.
Do you do anything to mentally prepare you for the week ahead?
I talk to my assistant on Sunday, and we go through what's going to happen so nothing is scary like, 'Oh my God, you did this and now I have two podcasts, and this, too.' I do go through that so I have a plan. But, otherwise, I jump right in.