Selena Gomez & Nicola Peltz Beckham Take Their Friendship To The Next Level With Matching Hats
@selenagomez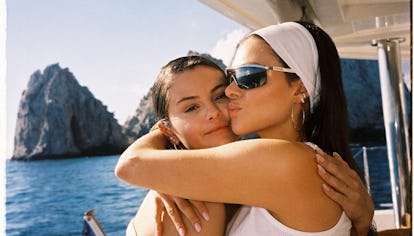 We may receive a portion of sales if you purchase a product through a link in this article.
Over the weekend, it seemed like every music industry star was at the Grammys or attending an after-party in celebration, but there were some celebs who opted out of the hectic night in favor of a more low-key event. Who, you might ask? Selena Gomez, for one, appeared to tune out the hustle and bustle, choosing instead to hang out with Nicola Peltz Beckham. The singer and actor shared a photo of them out to dinner on her Instagram, showing the two drinking the same orange cocktail and wearing matching fuzzy hats. Beckham and Gomez are seemingly inseparable ever since they publicly rang in New Year's Eve together back in January. (You definitely came across their party photos all over social media.)
As if to confirm their new BFF status, Beckham responded to Gomez's IG photo with a simple comment: "I love you so much," she wrote. Now that the two are best friends — or, well, are at least super friendly with each other — it makes sense that they might dress alike. After all, we can totally see the two hitting up a Chanel store, then grabbing a smoothie at Erewhon after. In addition to wearing the same furry topper from Colin Locascio — Gomez wore the hat in a mojito/caramel color while Beckham chose the solid caramel hue — the two also matched in black sweaters.
Gomez and Beckham super fans will recall that this wasn't the only time the two wore coordinating outfits. Back in January for the aforementioned NYE gathering, the two donned silver sequin dresses with their names embroidered in the tags from Valentino. And going even further into the past, in November 2022 the two wore matching satin pink pajamas for a girl's night. They were celebrating the release of Gomez's documentary My Mind and Me.
Luckily for the fashion folks out there who stan the two, you can still purchase their exact Colin Locascio hats for $198 a piece. As a fun fact to all: the designer hails from Queens, New York and started his namesake label in 2019, producing eccentric, lively, and playful clothes and accessories. The creations have caught the attention of maximalist dressers and celebrity trendsetters alike, including Rosalía, who happens to own the same furry-colored hat as Gomez.
Pick up your favorite Colin Locascio hat ahead and peruse through several other options should you want to add more soft and plush toppers into your accessory rotation. Then, stay tuned for more Gomez and Beckham fashion moments as the two likely have more planned outfit matching moments coming up.