Selena Gomez Swears By A Mood Meter To Up Her Emotional Intelligence
@selenagomez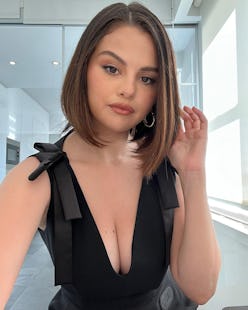 In 2022, Selena Gomez debuted her mental health platform, Wondermind. On the website, you can find all kinds of articles on the topic, from self-care strategies to journaling prompts to tips on how to quell anxiety. The latest to be shared is a "Mood Meter," which Gomez shared on Jan. 25 on her Instagram Stories. In essence, it's a mood chart with 100 different adjective choices to describe how you're feeling, energy-wise, as well as your pleasantness at the moment. So on one end of the spectrum, you may feel enraged; on the other end, you may feel ecstatic; and if you're somewhere in-between, you may feel shocked.
The Instagram post describes it well, stating, "If you feel like you're riding an emotional rollercoaster some days, you're not alone! No matter how you're feeling right now, remember that it's not permanent and can shift from moment to moment. Using this Mood Meter can help you tune into your feels throughout the day. (Hello, emotional awareness!)⁠." The post also notes the ability to feel multiple feelings at once and recommends checking in with yourself often to see how your mood has changed. And the chart is legit — it was created by Marc Brackett, a professor and the director of the Yale Center for Emotional Intelligence.
Similarly, research has found that many people use mood-tracking apps to see what mood patterns emerge, manage their emotions better, and make informed decisions to increase their emotional well-being. Some therapists also recommend that their clients track their moods. This way, they can better understand the person's mental health and state of mind, as well as come up with an appropriate treatment plan, and coping mechanisms, for them. After all, there are many factors that can impact someone's mood, from stress levels to sleep to diet, and more.
But if you're not quite ready to start tracking your moods, in the meantime, you can "Filter by Feels" on the Wondermind site. No matter what page you're on, there's a small icon that says "Filter by Feels" — Happy, Sad, Angry, Anxious, Stuck, Envious, Lonely. When you click on it, you'll find corresponding articles about however you're feeling at the moment. It's a great way to navigate the site and find pieces that are most relevant to you and what you may be experiencing in the moment.
Speaking of Wondermind, one of its goals is to help people up their mental fitness. Gomez created it with her mother, celebrity producer Mandy Teefey, and Daniella Pierson, founder and CEO of The Newsette. They wanted it to be a "mental fitness ecosystem" and a place for people to feel included and safe, Pierson told TZR back in Nov. 2021. Wondermind was also inspired by each of the founders' own mental health journeys. Gomez, for example, has been transparent about her depression and anxiety for years, a topic that is also featured in her documentary, Selena Gomez: My Mind & Me.
So the next time you're feeling alone in your emotions and thoughts, don't. "Filter by Feels" will show you you're definitely not alone. And, by checking out the Mood Meter, you can try to figure out why you feel the way you do, and what may have triggered the feeling. And hopefully you'll soon be feeling more of the positive adjectives on the Mood Meter rather than the negative ones.
Disclosure: Bustle Digital Group is an investor in Wondermind.