Selena Gomez's Innovative Take On Nude Nails Belong In A Fairytale
@tombachik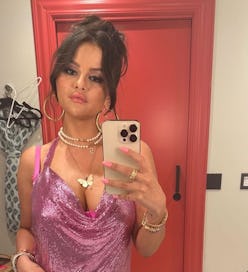 It's a great week to be Selena Gomez. She's enjoying a whirlwind of critical acclaim with Only Murders In The Building, gearing up for a big music release with her new song "Single Soon," and showing off some of her chicest looks of the summer along the way. In both the teasers for her upcoming projects and behind-the-scenes personal pictures, Gomez's hairstyles, makeup, and manicures have been simply unmatched. Gomez's naked shimmer nails first caught fans' eyes on her Instagram Stories, in which the reflective polish caught the light and legitimately sparkled as she moved her hands around. Considering the current "stealth wealth" and "quiet luxury" trends, it's no surprise that there'd be such a demand for recreating the look — what's more low-key than all-but-bare nails with a fun finish? It's like the mani equivalent of a big ol' solitaire diamond.
As usual, Gomez's go-to manicurist came to the rescue with a grid post dedicated to getting that signature sparkle. Tom Bachik is the one who coined "naked shimmer nails" in the first place, giving his followers (and Gomez's) an up-close, detailed shot of the glossy polish. Bachik first started with a simple builder gel polish to strengthen Gomez's natural nail beds, then laid down a final Après Nails touch: the Heavenly Top Gelcoat in Divine, which is responsible for the reflective glimmer.
It's a sweet, enhanced version of both bare nails and nude polished nails — a your-own-features-but-better dress-up that makes even such a casual look feel a little bit fancy. In the Stories video shared by Gomez, you can't help but pay attention to the shining flashes reflecting off her nails as she plays with the sweetest puppy.
If this summer's manicure crazes feel like...a lot, you're not alone in that camp. Summer always encourages a more-more-more approach to nail art, color choices, and lengths, which makes Gomez's pared-down look feel all the fresher. As she rolls out her new music video this weekend, though, expect the opposite approach — nothing says "Single Soon" like sultry hairstyles and long, painted claws.