Selena Gomez Partied In Paris With The Hottest 'Moulin Rouge'-Inspired Glam
Someone get her on the 'Lady Marmalade' remix.
@selenagomez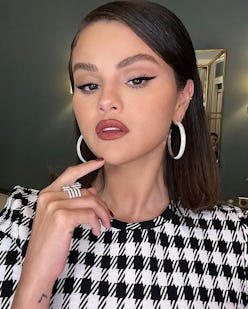 Selena Gomez might be having more fun in France than anyone. The "Single Soon" singer seems content to skip over the Paris Fashion Week hubbub, instead filling her days with work meetings, lunch dates, and sweet fan interactions, and while her evenings are reserved for the best nightlife the city has to offer. And true to form, she's doing it all with a revolving door of incredible hairstyles, makeup looks, and chic outfits. On Wednesday Sept. 27, Gomez's elaborate, curly updo and showgirl-inspired makeup was the talk of the town as she met up with a group of friends for a late dinner at Loulou.
Fascinatingly detailed and so deliciously dramatic for a night out, Gomez's upswept hair is the kind of stye that can only be properly appreciated with a full, 360-degree view of the entire look. Fortunately, celebrity hairstylist Dom Seeley, the creative behind the sculpted updo, shared just that over on his Instagram. The bun starts so smooth, with all the base hair slicked down for a sleek finish. Then, on top, it all blossoms into a carefully-arranged bubble of curls pinned together to form a bun. The best part, though, might be the one swirling, trailing tendril pasted against the back of her head — it's all the details.
Of course, the hair is only half of what makes Gomez's Parisian beauty combination so cool. On her own Instagram, celebrity makeup artist Aviva Solomon revealed that the legendary Moulin Rouge cabaret was the inspiration behind the bold look, including Gomez's rose-red lips and matching eyeshadow. Naturally, Solomon also shared that she used Rare Beauty products to help bring it all to life.
Maybe coincidentally, so many of Gomez's best beauty moments happen over in France. The star spent two months living in Paris earlier this summer, shooting an upcoming film and recoding a new album. While there, she spent her time in other sleek updo, bold lip looks, and even returned to the States with an earful of brand-new piercings. She also spent some time in the City Of Love last summer, showing off chic, retro-inspired blowouts and cat-eye makeup while promoting Rare Beauty.
Gomez seems committed to truly enjoying her time in France — and that, above anything else, might be the key to perfect glam every single time.