Rare Beauty's TikTok-Viral Highlighter Has Transported Me Back To 2016
A shimmery powder that doesn't get cakey? I'm sold.
Courtesy Of Vanese Maddix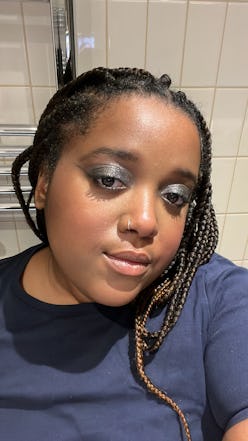 We may receive a portion of sales if you purchase a product through a link in this article.
In our series Trial Run, TZR editors and writers put the buzziest new beauty products to the test and share their honest reviews. This week, beauty writer Vanese Maddix is testing out Rare Beauty's Positive Light Silky Touch Highlighter.
Let me set the scene: The year is 2016 and you're getting ready for the day ahead with a full face beat of makeup, which is obviously standard because that's what your favorite beauty YouTubers wear. However, before you get ready to head out the door, you arm yourself with a brush (it probably isn't meant for highlighter, but who cares?) and rummage through your collection of highlighters, caking on the glitteriest power formulation of the bunch. As a millennial, I can attest to this phase of my life, and I completely own it.
Nowadays, my makeup routine is a lot less rigorous and doesn't include powder highlighter that hasn't been properly blended. When I do reach for a highlighter, it'll usually be a liquid or cream as I find these formulas easier to apply for a natural finish. So, imagine my surprise when I found myself intrigued by Rare Beauty's new powder highlighter, the Positive Light Silky Touch Highlighter, which comes in four shades: Enlighten (cool champagne), Exhilarate (champagne gold), Flaunt (true gold), and Mesmerize (rose bronze).
Unlike the powder highlighters I used back in 2016, Rare Beauty sold me on this launch because it claims to be an "an innovative powder highlighter that gives skin an instant glow that lasts." With that in mind, I was eager to put it to the test. And I'm not the only one — after reviews of it going viral on TikTok, the highlighter is currently sold out on Rare Beauty's website, but some shades are still available on Sephora.
Keep reading for my honest thoughts on Rare Beauty's Positive Light Silky Touch Highlighter.
Fast Facts
Price: $25
Size: 2.8g
Clean/Cruelty-Free: Yes
Best For: Anyone who wants to add an instant glow to the skin
Ingredient Highlights: Synthetic fluorphlogopite and dimethicone
What We Like: Isn't drying; glides onto the skin
What We Don't Like: Nothing!
Rating: 5/5
How TZR Keeps Score: 1/5: Making a return; 2/5: Keeping as a backup; 3/5: Finishing to the last drop; 4/5: Recommending to my group texts; 5/5: Already on auto-replenish
The Formula & Packaging
According to the brand, the highlighter is designed to give skin an instant glass-like sheen and natural-looking glow. Going off of this description, I knew the formula had to include a few skin-loving ingredients in order for it to deliver on its promises. Two stand-out ingredients include synthetic fluorphlogopite, which is notable for its sparkle pigment and generally being non-irritating for the skin, and dimethicone, which works wonders for sealing in hydration, improving skin texture, and preventing dryness and irritation. As someone with a normal-to-dry skin type, ingredients that help to prevent dryness are always high on my list when shopping for complexion products because there's nothing worse than a product that disrupts the results of my hydrating skin care routine. Plus, it's vegan and cruelty-free.
The highlighter sits in a lightweight ballerina pink mirror compact with the brand's signature logo on the front. It's simple yet classic, and fits well with the packaging of the brand's other products. The brand has highlighted from the very beginning that founder Selena Gomez wanted each product to have ease of use, and this product is no exception.
What I Look For In A Highlighter
As mentioned, I tend to look for highlighters that feel nourishing on the skin as opposed to one that feels drying. However, my absolute dealbreaker is a highlighter that doesn't give me an instant glow on my cheeks and on the high points of my face. I want my highlighter to be noticeable, but never overboard and unblended. It also can't cause the rest of the complexion products I'm wearing to oxidize, too.
My Experience & Results
It just so happened to be my last day on vacation in New York when the highlighters launched in Sephora stores and with only an hour to spare before catching my flight back to London, I knew I had to pick the shades I wanted wisely. I ended up purchasing the shades "Flaunt" and "Mesmerize" as I could tell they'd really complement my complexion, which isn't always the easiest to figure out.
When shopping for highlighter, makeup artist and writer, Madeleine Spencer, says the best shade will complement your skin tone and not stand out against it — unless you want it to, of course. "If you have deep skin with warm undertones, for example, a rich, golden highlighter would be perfect," Spencer shares. "Equally, if you're very pale, a cool, silvery highlighter would work really well. Effectively, if you want a 'natural' highlight, pick one where the color, but not the sheeny quality disappears into the skin when smoothed on."
I found the Rare Beauty highlighter texture to feel velvety. It glides onto the skin for an instant glow, which isn't something I've experienced before from a powder highlighter, but I'm thankful for it. Like many highlighters, a little does go a long way with this one, too. To apply it, you'll only need to lightly tap your brush or fingertip into the pan before gliding it onto the parts of the face you want to highlight.
Spencer also notes that you should always blend the edges of a powder highlighter, as "you don't want to see where it ends and your skin begins." Thankfully, I found the formula to blend really easily.
Is Rare Beauty's Positive Light Silky Touch Highlighter Worth It?
At $25, Rare Beauty's highlighter sits just slightly below in price of other new highlighters on the market and for me, the price point alone makes it worth the purchase. This highlighter has taken everything I loved about the super shimmery highlighters I wore back in 2016, but delivers a natural, blended finish I could never achieve with any of those formulas. I truly believe 2023 is the year the powder highlighter makes a comeback, and Rare Beauty will rightfully take center stage.