Selena Gomez Returned From Paris With Several New Piercings & A Fresh Attitude
That upcoming album is going to be something.
@rarebeauty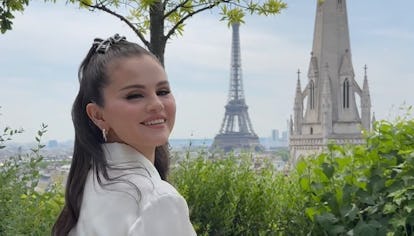 Summer is technically only a few days old but Selena Gomez is already having an incredible one. The movie star-musician-mogul has been living full-time in Paris for the past two months, hard at work on a film set — while simultaneous recording for her upcoming album and doing Rare Beauty promo with Sephora France. For Gomez, though, the extended trip was as personally transformative as it was good business, and she has the semi-permanent souvenirs to prove it. Gomez's new cartilage piercings join her existing ear constellation lineup, but fill in the gaps for an even more intense look that manages to not sacrifice any elegance in service of some fresh edge.
"Thank you Paris for being a home to me for two months!" she captioned her farewell Instagram post. "I loved every moment. Working on this film has completely changed my life. I can't wait to share more soon!" Just hours later, she shared a photo of herself on the plane ride home, capitalizing on her window seat to show off some new Rare Beauty products coming later this year. There, in the mile-high sunlight, each of Gomez's piercings are brilliantly illuminated.
Not counting the hidden studs along the inner portion of her lobes, Gomez now has eight distinct piercings snaking up the outer edges of her ears, most of which are spaced just millimeters apart. While large gold tube hoops kick off the piercing series, the rest appear to be flat diamond studs. At least three of them are newly acquired, evident when compared to the internet-breaking selfie she shared in mid-April. Gomez's helix piercing (that's the one at the very top) is there, as are a few scattered gems on her upper lobes, but the cartilage itself is unadorned.
The look is both intricate and elegant, largely thanks to the simple, pared-down jewelry she wears up there. Coming back from an art-filled trip abroad with new piercings and an invigorated attitude is like a summertime rite of passage — even for celebrities.