Sarah Jessica Parker Has Incorporated This Color Into So Many Of Her Iconic Looks
Photo by James Devaney/GC Images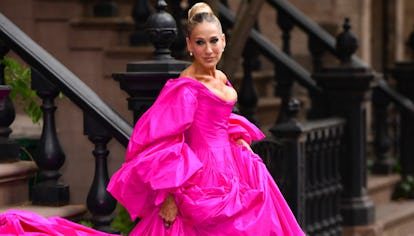 If anyone has taken the idea of the world as their runway to heart, it's Sarah Jessica Parker. Whether it's onscreen as the iconic Carrie Bradshaw from Sex and the City or on the red carpet as herself, the actor has made it known that she's not one to shy away from a bold look — and even when she's in her off-duty mode, she still manages to stand out in the crowd. Decades of premieres, award shows, and other appearances have built up to some of Parker's most iconic looks ever. And they're clear proof that the Hollywood A-lister does not merely love fashion — when the opportunity presents itself, she defines it.
The 57-year-old actor and designer may be most known for her role as the fashion-forward columnist from SATC, but her penchant for statement-making fashion didn't start there. Her earliest red carpet moments show a daring streak to her sartorial decisions, which has stayed with her throughout the years (especially when she attends the Met Gala). Of course, like anyone who spends years zeroing in on their style, there have been a handful of style evolutions in the actor's wardrobe that have not gone undocumented. And if you take a quick scroll through her best looks yet, you'll see that they're only getting better as they come.
Scroll down to see SJP's most iconic looks to date below.
This article was originally published on