Salma Hayek Just Wore The Single Hottest Hair-Makeup Combination Possible
She always gets it so right.
Steve Granitz/FilmMagic/Getty Images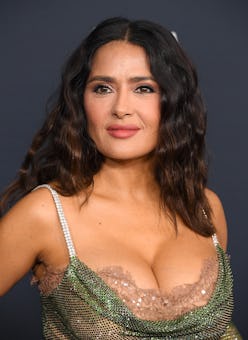 Salma Hayek's singular ability to turn up the sultry factor needs to be studied by science. In her all years in Hollywood, it's rare to see Hayek on a red carpet not exuding an easy, elegant sensuality — drama and romance are always baked right into her excellent fashion, hair, and makeup choices. But even with her career of unassailable event looks as a backdrop, she's been in rare form all through Cannes 2023. Salma Hayek's glittery green makeup at the festival's Kering Women in Motion Award celebration is especially commendable. Along with the cool-toned shadow's lagoon-green color, Hayek's waterline eyeliner and long, tousled waves all combine to nail the summer's all-encompassing mermaidcore movement taking over social media right now. Really, could you imagine a better spokesperson for the movement than Hayek?
At the awards event, Hayek turned up on the red carpet with elongated, emerald green glitter eyeshadow framed by an inky stripe of black liquid eyeliner. The real kicker, though, is the concentration of liner along her lower waterline. A recently resurrected trend, concentrating an intense shade through this area is a 10-second way to add smoldering intensity to any look — as Hayek so perfectly demonstrates.
The thing about Hayek and her unmatched red carpet abilities, though, is she never relies on just one standout component in a look. Her wave-filled half-ponytail is equally excellent, particularly the long, cheek-skimming tendrils that frame her face. By keeping the upper, swept-back portion more textured and artfully undone, it's made all the more sultry — perceived effortlessness always adds a little something extra. Beach waves are one of Hayek's tried-and-true go-to hairstyles, but the height, volume, and uneven ends afforded by the half-ponytail make them feel totally fresh.
While it's currently unclear exactly which artists were responsible for Hayek's flawless Kering Women in Motion Award moment, it could be the team responsible for her look at the Killers Of The Flower Moon premiere just one day earlier. Celebrity hairstylist Jennifer Yepez created Hayek's sculpted bun, while celebrity makeup artist Sofia Tilbury worked on her purple-toned makeup. Hayek's one of Charlotte Tilbury's high-profile muses, so it's likely that those products were used for all of her Cannes appearances so far.
One thing's for sure, though. If you need a downright magnetic hair-makeup combination for a summer date night, pull up virtually any Salma Hayek look and you've got all the inspiration needed.