Rihanna's Go-To Lipstick Technique Elevates Her Family-Night Look With Minimal Effort
The mother of all lip shades.
305pics/GC Images/Getty Images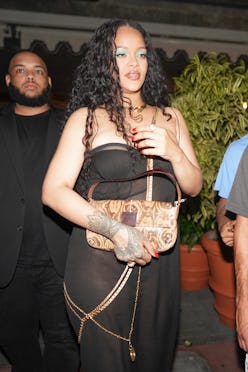 Take a moment to consider the talent Rihanna's children had the chance to absorb in utero. The heirs to Rih's empire got all of her mogul DNA — they'll probably be ready to launch a new Fenty-branded franchise around the time they toddling around. Surely, part of it will be the example Rihanna is setting with her maternity and mom-on-duty fashion and beauty choices. Even while several months pregnant and doting on an infant, she maintains a commitment to the creative glamour made her an icon. Just look at Rihanna's dark red lipstick and trendy tulle skirt as she left a restaurant on Wednesday evening, her adorable son in her arms and partner ASAP Rocky by her side. Some might take a more causal approach to a weeknight family dinner, but long, styled hair and a red lip — complete with her go-to liner technique — is like Rihanna's version of a claw-clip ponytail and Chapstick.
As Rih exited the restaurant in a long Wu-Tang jersey and wraparound sunglasses, the camera flashes illuminated her dark red lipstick and matching liner, putting a literal spotlight on the distinct application style. Rihanna often does a darker lip liner, concentrating a slightly lighter color in the center of her lips, and then topping the whole thing off with a reflective gloss.
The darker edge and burst of shine in the middle gives lips a 3D effect, helping them look even fuller and more defined. The technique is one of Rihanna's favorites, she's even worn the look in Fenty campaigns and on some of her biggest red carpets. Reds are most frequented lipstick color palette — there's a reason why her signature Fenty lip colors, like the blue-undertone shade The MVP, are all reds — but she also experiments with purples, oranges, and even more extreme shades like true blues.
WWD/Penske Media/Getty Images
Kayla Oaddams/WireImage/Getty Images
Wednesday's look was classic Rihanna, though, with the timeless, vampy lip color and heaps of diamonds acting as the perfect counterbalance to her low-key jersey. Rounding out her elevated weeknight beauty are long, square-tipped nails in a putty-pink and glossy, straightened hair. It is what it is: Rihanna's random Wednesday night dinner look is more polished than many seen on an actual red carpet.