Rihanna's Glossy Curls Are Looking Longer & Lusher Than Ever Before
Good girl gone...even better.
James Devaney/GC Images/Getty Images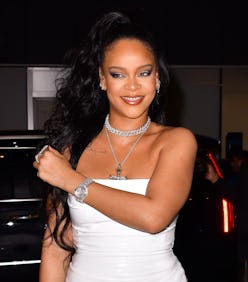 It's the mother of all celebrity sightings — imagine you're out for an easy-breezy midnight stroll around the neighborhood only to come face-to-Fenty-made-up-face with Rihanna herself, the always-doting A$AP Rocky in tow. Considering the fact that the musician-mogul-mom has (understandably) kept a pretty low profile since the birth of her first child, Rihanna's rare appearances on late-night walks — complete with radiant makeup and chic outfits, no matter the hour — are all the more exciting. In the case of her August 7 walk, Rihanna's curly hair and glowing cream blush would have looked just as at home on the red carpet as it does casually trawling the park with her partner.
Rihanna's always been fashion and beauty's go-to girl for drama and extravagance, but her ability to make relaxed, pared-down looks feel just as exciting is truly unparalleled. It's easy to make headlines dressed as a bedazzled pope but only a star of Rih's caliber can do it in distressed denim and an easygoing wash of lip oil. For the quickie outing, just one of a handful of sightings since giving birth in May, Rihanna seemed focused on playing up her natural features with just a few enhancing touches. Her curls are long, glossy, and full, she split with a middle part and pinned on each side just a few inches back from her hairline.
The pseudo pigtails are playful, conveniently keep hair off the face, and add a little Y2K-adjacent flair to her look — a vibe that's only heightened by her midrise boyfriend jeans and tangles of gleaming gold necklaces. And speaking of boyfriend, new father A$AP Rocky stuck to his usual outfit M.O. of subtle coordination with his own pair of baggy, sky-blue jeans and vintage-inspired necklaces. The pair have a penchant for complementing each other's outfits rather than matching outright — and if anything, that method makes them seem even more in sync than a super strategically coordinated look. But no matter what the couple wears, he always seems to take pleasure in stepping back slightly and allowing Rihanna to shine.
While it's not immediately clear what exact products were used in Rihanna's glowy night-walk look, her loyalty to her own brand (and the line's excellent formulations) can narrow it down a bit. Based on the moisture factor, shine, and very subtle color tint, she very well could be wearing the Fenty Beauty Cherry Treat Lip Oil. A perfect compromise between a nourishing balm and a pretty gloss, it's ideal for situations like evening strolls and morning coffee runs.
As new parents, it'll probably still be a while yet 'til Rihanna and A$AP Rocky resume their regular glamorous cavorting around the world — but even these brief glimpses provide endless aesthetic inspiration until then.