This Expert-Approved Lash Technique Brought Beyoncé's Dubai Concert Look To Life
@beyonce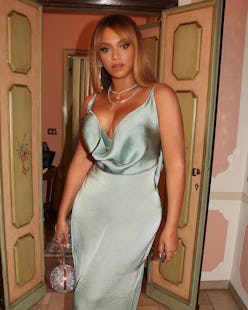 We may receive a portion of sales if you purchase a product through a link in this article.
No, you're not dreaming — Beyoncé has finally returned to her rightful place on a concert stage. After a long hiatus from performing, the superstar put on a spectacular show at Atlantis The Royal Resort in Dubai over the weekend for a (very lucky) private audience. Though it was an exclusive event, photos have begun circulating as the team involved shares some behind-the-scenes details. You'll be thrilled to know that Bey has absolutely still got it — as if there were ever any doubt. In addition to her gorgeous costumes and commanding stage presence, Beyoncé's Dubai hair and makeup encapsulated the regal glamour, disco-steeped that's at the core of her Renaissance era.
For her grand return to the stage, the singer looked glowy and angelic in long, honey-blonde mermaid waves. The style, done by one of her go-to pros, Neal Farinah, draped over her shoulders and served as the perfect canvas for the pronged halo headpiece she wore for a portion of the show. Celebrity makeup artist Rokael Lizama (who goes by simply Rokael) created a soft glam look that let Beyoncé's stage ensembles (which included a red and gold corset gown and hot pink minidress) be the center of attention. Still, there's no denying that Bey's makeup brought all the bronzy, glamorous vibes. "DuBey was everything!!! 😍🙌🏽 ," Rokael shared on Instagram. "Wow I needed some time to just take it all in! What an unforgettable experience! So grateful to have been part of this moment Love You Bey!!"
While the makeup artist didn't share a complete breakdown of Bey's look, he did reveal that he used two different styles of newly launched individual lashes from his luxury false lash line, Rokael Beauty. "I loved this soft glam we did," he continued in his Instagram post. "I used my new lash clusters @rokaelbeautylashes in styles 'Lunar Lites' and 'Constellations' mixed!"
Rather than doing a full strip lash, Rokael opted for a blend of individual lashes to create a custom look for the singer that still delivered all the drama on stage. Below, check out the exact sets of lashes used to recreate your very own "Renaissance" glam moment.