No One On Earth Can Do A Glittery Makeup Look Like Priyanka Chopra
Samir Hussein/WireImage/Getty Images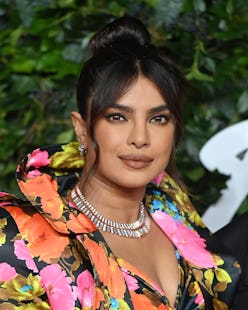 It's almost hard to imagine based on the stature of her career up to this point, but the stars are all aligning for Priyanka Chopra to have her biggest year yet. She and husband Nick Jonas will soon celebrate their daughter's first birthday, her filmography is stacked with upcoming roles, and a new report from Cosmetify just named her Anomoly hair care line the second-biggest celebrity beauty brand, usurping Kylie Cosmetics. All that success is manifesting physically — Chopra looks so in her element on the red carpet, especially when she's wearing bold, colorful outfits and makeup. Most recently, Priyanka Chopra's eye glitter at the opening of Mumbai's Nita Mukesh Ambani Cultural Centre absolutely twinkles, helping to create a head-to-toe shimmer effect with her beaded ensemble.
Chopra's look for the evening was delightfully maximalist, leaning into the reflective finish of her bustier with gleaming highlighter stretched across her high cheekbones, nose tip, and brow arch for added definition. It's her eyeshadow that really ties it all together, though, a muted green-gold glitter that illuminates her face and even emphasizes her long eyelashes. Every shade selected for her look was intentional, too — on Instagram, she revealed that the holographic glaze of her bustier was created to represent the nine colors of ikat weave found in her 65-year old brocade saree. The similar tones in her eyeshadow complete the color coordination.
Celebrity makeup artist Daniel Bauer created Chopra's look for the evening — the two often work together on her most high-profile appearances, including her immaculate rose-gold moment at Bvlgari's Garden Of Wonders event. While Bauer didn't share the exact products that went in to bringing Chopra's eye glitter to life, it appears that he concentrated much of the sparkle toward her inner corners for an ethereal, wide-awake feel. That spot closest to the nose is usually reserved for highlighter for that same reason, but by replacing it with the glitter, her eyes shine even brighter.
Completing her look are the extra-long curls that flow all the way past her waistline. Comparative photos from other recent events confirm that she is wearing extensions, but the curls' shape and blend with her self-grown hair — all masterfully done by celebrity hairstylist Gabriel Georgiou — could fool even other experts.
With fellow A-listers like Zendaya, Penelope Cruz, and Gigi Hadid in attendance, it seems like everyone decided to go for their most glamorous beauty looks in recent memory — long hair extensions, bold eye makeup, and glossy manicures were everywhere, all complemented by dazzling, mostly couture takes on traditional Indian garments. But even among the industry's brightest stars, Chopra always manages to stand out.