Priyanka Chopra's Long Layers Really Show Off Her 'Chocolate Cherry' Hair Color
The best color for spring.
Daniele Venturelli/Getty Images Entertainment/Getty Images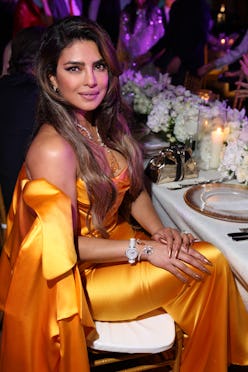 Priyanka Chopra's Midas Touch defies categorization, but damn, is her influence on the beauty world powerful. A creamy lipstick, a bold manicure color, a fresh new haircut — if Chopra shares it on her Instagram, it's safe to say legions will follow suit. How else do you amass a staggering 85 million followers on the photo-sharing app? While Chopra's voluminous brunette hair is usually accentuated by caramel-colored highlights, the shade seen in her latest post is really causing a stir. Priyanka Chopra's "chocolate cherry" hair in her new Bulgari campaign introduces her feed to one of 2023's most sought-after colors. Beauty professionals and industry insiders told TZR the red-tinged brunette shade would be in high demand this year — and after seeing it in action on Chopra, how could it not be?
Defined by the co-mingling of rich brown and a distinctly red shade, chocolate cherry appears to be the 2023 take on the strawberry blonde hair color craze that ruled last summer. In Chopra's take on the trend, her own chocolate cherry hair is so dimensional, featuring warm, red strands well-blended with a deeper brown. Her hairstyle is excellent, too, and perfect for showing off the multifaceted color. Celebrity hairstylist Bridget Brager — she also works with stars like Constance Wu and Emma Roberts — the bouncy, center-parted layers are fresh, polished, and so luxe-looking.
Jason Lee, hairstylist, colorist, and founder of Mela & Kera haircare, told TZR back in November that the fusion of red with brown is an easy way to experiment with a fresh new look without jumping feet-first into the trend. "For those of us who aren't ready to take the full plunge into red, chocolate cherry seems to be a great way to update your look and make it modern but still living in the brunette world," Lee said.
Considering warmer weather usually brings warmer and often lighter hair colors with it, expect to see plenty of other A-listers going for the chocolate cherry look this spring and summer.