Pamela Anderson's Makeup-Free Skin Is Glowing At Paris Fashion Week
She needs to drop her routine – stat.
@pamelaanderson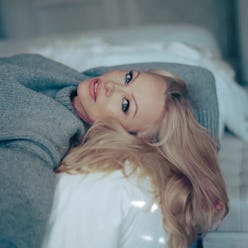 Google "blonde bombshell" and you'll likely find a picture or two of Pamela Anderson with her smoldering smoky eye, frosted pink lip, and perfectly coifed bleached hair. Since her days in the '90s as television's favorite lifeguard, the actor has been known for her glamorous hair and makeup looks. Fast forward to 2023 and she's embracing her natural beauty. Now, a quick search of her name yields an entirely different bombshell image. In fact, the first to pop up is likely to be Anderson makeup-free during Paris Fashion Week. At the height of the scheduled events, the actor sat front row at Isabel Marant's Spring/Summer 2024 show bare-faced and glowing among the runway lights.
Sitting front row, all eyes were on her. So of course, Anderson's natural look was the talk of the night. Wearing a soft lemon-colored dress, she let her sunwashed waves frame her face, showing off her stunning features: freckles, natural pink lips, and radiant skin. The next day she continued to shine, as cameras captured her heading into the Victoria Beckham show. This time, the actor's hair was loosely pinned back into a half-up, half-down style, but her fresh, makeup-free face was on full display. Needless to say, she looked effortlessly stunning and glamorous.
Marc Piasecki/WireImage/Getty Images
But this isn't the first time Anderson has skipped applying makeup, as she was also spotted earlier this week at The Row smiling through streaks of her golden blonde hair.
Though her stripped-down aesthetic may have begun in January with the release of her Netflix documentary and memoir, it's clear that she's embracing her makeup-free era with vigor. In a recent interview with ET Online, Anderson stated that she enjoys being different and, while the past was the past, she's leaning into this new chapter of her life.
At 56, Anderson joins a growing group of Hollywood celebrities (Sarah Jessica Parker, Gabrielle Union, and Jennifer Lopez to name a few) who've been showing off their natural beauty sans makeup and proving that, while there's a time for glam, you don't need it to be drop-dead gorgeous.