Why Sarah Jessica Parker Is Proudly Anti-Beauty Trend: 'I Feel Like Myself'
TZR talks to the icon herself.
Courtesy Of RoC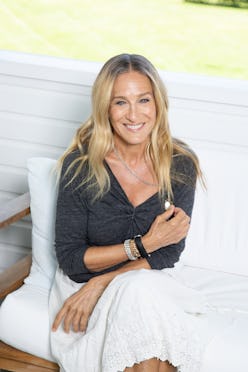 We may receive a portion of sales if you purchase a product through a link in this article.
If there were ever an A-list proponent of marching to the beat of your own drum, it's Sarah Jessica Parker — she literally starred in a show called Square Pegs. But fans will be glad to know that the star's quirky appeal extends far beyond the strong, individualist women she portrays on screens both big and small. It's a testament to her impressive will, of course, but also an optimistic streak that keeps her moving forward. In a conversation about her latest philanthropic partnerships and her (clearly very efficacious) skin care routine, Parker's grounded personal paradigm extends far beyond just beauty. "I just seem to function better if I can see the possibility of a solution or a better day, or even a better 15 minutes," she tells TZR, explaining that her hopeful outlook is a mechanism she developed over the years. That doesn't mean she doesn't have her pessimistic moments, Parker says, but realized that looking ahead was a tool that truly serves her well.
She's not content keeping the sunshine just to herself, though. Parker's teamed up with RoC Skincare on a mission to spread a little light where it's most needed. Ahead, Parker walks TZR though her thoughts on the partnership, beauty trends, and the skin care favorites she's loving this summer.
On Her Latest Philanthropic Mission
Parker's latest collaboration, part of RoC's larger Look Forward Project initiative, is a significant one. Her curated collection of RoC skin care favorites is now available as a specially branded set, with 100% of profits donated to non-profit SeekHer. As this is RoC's second year of partnering with the charitable group, which aims to empower women of all ages through mental health advocacy support, there's a new, higher-tech component that'll surely resonate with up-and-coming generations. Alongside 10 creators giving advice to their younger selves on TikTok as part of the brand's #BeARoC campaign, Parker's dueting the videos to give out some additional uplifting thoughts.
"I think [optimism] has been my nature for a while, just because that seemed the most productive way for me to try to get through things that were challenging or difficult or upsetting," Parker shares, though she mentions that getting into that mindset can be tough for those facing serious hardships. "RoC is being really thoughtful about not saying you are responsible for optimism, you must find it — that would seem to dismiss that people's lives are really difficult and complicated. [It's] more so that we're hoping that that's a place that they can be counseled toward."
SJP's Summer Skin Must-Haves
Of course, such a major component of the collaboration is the curated skin care set Parker put together, which consists of two best-sellers and one recently-discovered favorite. She's been a longtime RoC fan though, telling TZR that she uses the Retinol Correxion Max Hydration Cream "very deliberately, every single night." When morning rolls around, she used to go straight for the RoC Multi Correxion Daily Moisturizer with SPF 30, but has been experimenting with the just-released Revive + Glow Moisturizer with SPF 30. "I tend to use new things sort of slowly because I'm not sure, especially if it has retinol or any corrective stuff in it. I tend to be a little bit careful with the process because I have sensitive skin," she says.
For those with sensitive skin like SJP, her philosophy on slowly integrating retinol is key. Start out with a gentler formula with a lower concentration percent, incorporating it into your routine just one day per week while the skin acclimates.
Her Take On All Those TikTok Trends
Despite her the TikTok participation in the RoC campaign, Parker herself prefers to sit out when it comes to the video-sharing app — and the beauty trends it yields. When asked if there are any habits she's trying to kick, Parker considers the pros and cons of a signature, pared-down look. "I don't know trends, I'm not on TikTok so I don't know what people are doing. I've never done contouring or shading or wearing false eyelashes or anything," Parker shares, though she says she's of course had it all done to her in a professional capacity. "I suppose someone could tell me I need to ween myself off of what I've been doing for so long," Parker muses. "But I kinda like how I leave the house and feel like myself."
And she's not wrong — when you're an icon of Parker's stature, why mess with perfection?
Shop the SJP x RoC collection just below.