Jennifer Lopez's Lived-In Makeup Is The Ultimate *I Woke Up Like This* Moment
@jlo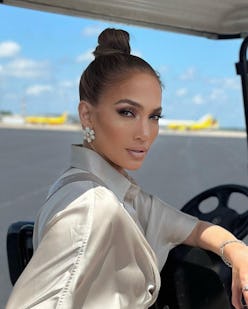 It's hard not to think "high glam" when it comes to Jennifer Lopez. From her iconic golden glow to her strategically highlighted mane and perfectly sculpted makeup, the multi-hyphenate mogul never misses. Delivering on red carpets may be one thing, but time and time again, Lopez brings that same energy to her selfies, showing that she's just as real as the rest of us. In her most recent snapshot, the star took to Instagram to share a motivational quip, and while any morning incentive from J.Lo is more than enough to get the gears going, it was her lived-in makeup that took center stage.
Casually draped in lacy green lingerie and propped up on all-white bedding, Lopez looked every bit refreshed with a subtly blurred smoky eye and soft, fluffy brows. In a true "I woke up like this" moment, she gave viewers a rare glimpse into her morning. Her skin, while not completely bare, is radiant and giving that effortless glow sans bronzer, while her lips are slightly flushed highlighting her natural lip colors. With minimal makeup, no lashes or glam needed, and lightly tousled hair Lopez embodied a fresh-face look that's both approachable and easily achieved at home.
Captioned with a short message that read "Good morning and Happy Monday! It's going to be a great week!! A lil #MondayMotivation #Limitless #ThisIsMeNow," the post was the complete package of insightful and energizing. As you may recall not too long ago Lopez announced a new album called This Is Me… Now was to be released sometime this year. To say anticipation is high for this timely version of her acclaimed 2002 album, This Is Me… Then, would be an understatement. For previous albums, the "Jenny From The Block" singer has dished out some major swoon-worthy makeup looks. But with this post that embraces all of her candid, au naturel moments, Lopez has us at the edge of our seats for what's to come. Unsurprisingly her softer side with muted and slightly muddled makeup is just as enticing as her full on glam.
Yes, sleeping in makeup is a skin care faux pax, but as most people can attest to: sometimes it just happens. And when it does, wouldn't it be nice to deliver like Lopez? Without a doubt, the luster of her mostly bare face can be attributed to her skin care routine. After all, Lopez is never one to neglect the importance of a good regimen. And her latest look is proof that consistency pays off in droves.