After A Year Of Her Split-Dye Hair Color, Miley Cyrus Finally Picked A Side
Gotham/GC Images/Getty Images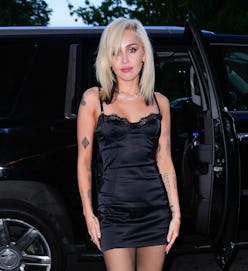 Welcome back, Miley Cyrus. For the vast majority of her near-20 years in the spotlight, constant toggling between bright, platinum blonde and warm, cozy brunette hair colors has practically become her calling card — on- and off-screen. While still knee-deep in celebrating her Endless Summer Vacation album and its slew of hit singles, she pulled the sort of dramatic hair makeover usually reserved for between-project hiatuses. Cyrus' newly-dyed brunette hair feels at once totally nostalgic and entirely fresh, a deep and extremely glossy shade of umber conferring more than a little autumnal energy at the same time.
Naturally, fans were quick to take the change as a larger signal — many think Cyrus is about to embark on an entirely fresh musical era or announce some major upcoming project. In the Instagram photo revealing her new hair color, she's clutching an oversized Gucci and emoting into the camera, congratulating brand creative director Sabato De Sarno on his new collection in the caption. "Congratulations on your beautiful debut show," she wrote. "Your stunning heart was shown in every stitch. I love you & am so proud. Now give me everything." By not acknowledging her hair, Cyrus made her followers slip into detective mode, discussing what it all could mean right there in the comments.
Thanks to her breakout role in Disney's Hannah Montana, which required her to alternate between long honey-brown extensions and a pin-straight platinum wig, most think of Cyrus as both a blonde and brunette in equal measure. But interestingly enough, this is the first time she's been truly brunette in 11 full years. She first went truly blonde back in 2012, the same year she chopped her hair into the now-legendary pixie cut to serve as an aesthetic reminder that she was leaving the Disney days way in the past.
Cyrus spent 2010 with rich, dark brunette hair, faded it to a honey-colored shade by 2011, then went white-blonde (complete with a pixie cut) in 2012.
Kevin Mazur/WireImage/Getty Images
Frederick M. Brown/Getty Images Entertainment/Getty Images
Jason Merritt/WireImage/Getty Images
Of course, Cyrus has been loving the split-dye look lately, coloring the underside of her hair an inky black shade that make the cool-toned platinum look laid overtop look even brighter. In a way, the look is like her homage to both halves of herself — and considering much of her current album cycle is built around self-reflection and examining the past, it's likely not a coincidence.
Only time will tell what Cyrus' glam new look means, if it means anything at all. Can't a girl go brunette for fall just because it looks cute? Everyone else is.