Dakota Johnson Just Revitalized Her Entire Look With A Brilliant Hair Color Tweak
Michael Loccisano/Getty Images Entertainment/Getty Images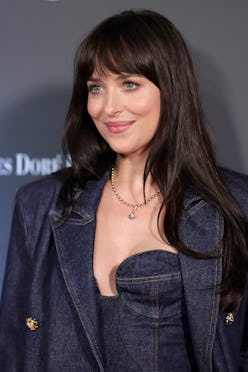 Did you ever think you'd see the day? Turns out even the strongest signature styles deserve an upgrade once in a while — especially when approaching a new season full of possibility. While she didn't change a thing about her elbow-length, artfully undone waves or bottleneck bangs, Dakota Johnson's honey brown hair, newly colored ahead of summer, is an invigorating yet low-key way to play with her trademark look. With so many top-tier celebrities opting for major style shakeups in the past few weeks alone, there might just be something in the L.A. air — everyone's after a personal refresh.
For her biggest hair switch-up in years, Johnson turned to her longtime colorist and A-list favorite Matt Rez, assisted by Jason Seradsky, Elvia Garcia, and Tommy Cotton. "A lil lighter for the gorgeous Dakota Johnson," Rez shared on his Instagram, posting a never-before-seen photo of the actor from the Gucci cruise show. Significantly lighter than her usual rich mahogany shade, the new gold-toned color feels cozy and intentionally worn in, like a high-quality pair of faded jeans. And actually, it all really works with Johnson's carefully curated vintage-tinged aesthetic, the light brown shade seems more than a little '70s, particularly when paired with her ubiquitous waves and long bangs.
Looking at side-by-side photos of Johnson's two most recent hair colors, the differences between the two shades stand out all the more. Rez — who works with so many major stars like Adele, Hailey Bieber, Kendall Jenner, and Kate Hudson — worked on Johnson's much moodier, deeper shade from early 2023, too.
Dakota Johnson's dark hair as of January 2023 compared to her latest, light brown shade — both courtesy of Matt Rez.
Michael Loccisano/Getty Images Entertainment/Getty Images
Now all of this isn't to say that Johnson hasn't done more serious hair color experimentation in the past. Before hitting her big break with the Fifty Shades franchise, the star dabbled in sunny, highlighted blonde hair. Now, photos of her with the bright, light shade almost feel like looking at a totally different person.
The power of hair color can never be understated, clearly.