Meghan Markle's Latest Hairstyle Is A Sporty-Chic Updo Perfect For Football Season
Max Mumby/Indigo/Getty Images Entertainment/Getty Images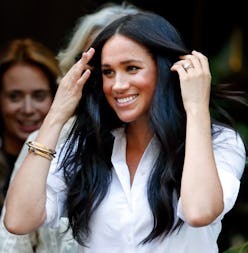 Any beauty lover will tell you firsthand that there's virtually no event harder to plan for (aesthetically speaking, anyway) than one involving athletics. The challenge is twofold: it's critical to feel put-together and stylish, but there's the added pressure to simultaneously look low-key, laid back, and a bit sporty yourself. Trust Meghan Markle to figure out the ideal hairstyle hack for walking the fine line between both requirements — her looks at the Invictus Games, a charitable initiative founded by husband Prince Harry, are hall of fame-worthy all on their own. Markle's messy bun was spotted in the stands on day two of the event, a loose updo that manages to confer casualness and a bit of sultry intrigue all at once.
The Invictus Games have become a beloved institution, honoring wounded servicemen and their families through a multi-day festival of sports and family activities. While the event is ostensibly a philanthropic one, its celebrity invitees always love to capitalize on the fun by getting in on the cheers, participating behind the scenes, and showing off their game day looks from the stands. Though Markle's been with Harry since summer 2016, this is the first year she's attended — and already making such a stylish splash.
Chris Jackson/Chris Jackson Collection/Getty Images
Jordan Pettitt - PA Images/PA Images/Getty Images
The updo arrives at the perfect time, too. Stateside, the calendar is flooded with high-profile tennis, baseball, and football games. Even if you're not so into the whole sports thing yourself, there's always the chance you'll get roped into attending by friends or family. And if not, Markle's bun is still an ideal one for low-impact workouts, walks, and pairing with athleisure outfits in general. Really, what makes it so great comes down to its positioning at the crown of the head (very ballet) and its loose, breezy texture. By leaving the bun a bit undone and allowing long tendrils to flow freely, an undeniably glamorous element is introduced.
Markle's attended plenty of A-list sporting events over the years (she's been a courtside fixture at all the top tennis matches) but this might be her top ticket-holder look. Expect to see it in her regular hairstyle rotation from here on out.