Megan Fox's Artistic New Manicure Is Giving 'Alien Princess' In The Best Possible Way
@meganfox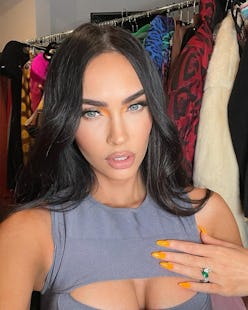 Can anyone else feel Megan Fox's powers physically growing the closer we get to Halloween? The star's been open about her love for all things metaphysical, but it really manifests through her aesthetic choices — manicures in particular, actually. All year long, Fox's nail colors and designs of choice toggle between moody, experimental, and classically sultry, but the impending holiday seems to be teasing out an even higher level of creativity. Truly, her latest look is an impressive feat, even for her.
Fox's rose gold 3D nails feature every trending aspect of the moment, but the way she and her top-tier artist fashion them all together makes it feel both so distinct and so totally her. Personally, it seems like a style you could only describe as alien princesscore — not sure if that will catch on with TikTok, but alas — and something says Fox herself would approve of the description. The highly detailed, texturally intricate manicure was created for Fox's trip to Tokyo by her go-to nail artist, Brittney Boyce. In a close-up video shared to Boyce's Instagram account, every element can truly be appreciated. There's the sunset-colored metallic finish, the hyper-trendy squoval shape, and those iridescent, otherworldly vines snaking across the beds in raised swirls.
Together with Fox's intricate hand tattoos, the effect is beyond ethereal. Boyce revealed on her Instagram that the look was actually inspired by another set created by @hollywiththegoodnails. On Holly's page, the original look features those same raised-texture vines and a trippy metallic coating that feels so futuristic. As 3D nail art of all sorts ramps up in popularity, expect to see plenty more swirly-line manis pop up on other tastemakers, celebrities, and cool-girls you know in real life, too.
It's already been a busy month for Fox. She's been traveling internationally, promoting her upcoming book of poems, and experimenting with an electric new shade of neon red hair, all just since September started. This time in the season is when Fox really comes alive, and usually brings her best looks of the year along for the ride — watch this space.