Megan Fox's 2023 Grammys Manicure Is Dripping In Diamonds & Gold
150 of them, to be precise.
Kevin Mazur/Getty Images Entertainment/Getty Images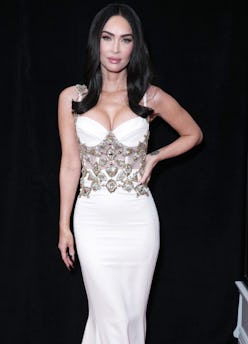 It's arguable that the recent resurgence of the early 2000s emo and goth aesthetics wouldn't be possible if Megan Fox and Machine Gun Kelly didn't meet, discover they're twin flames, and get engaged. The couple have single-handedly become the blueprint for current rockstar fashion, wearing more black leather, baby pink, spikes, chains, and studs than any former Hot Topic teen's wildest dreams. For her 2023 Grammys beauty look, Fox stayed on-theme, from her wavy raven hair to her smudgy cat eye to her long, chrome stiletto nails embellished with sparkly crosses.
While Fox's nails don't feature studs or spikes, the actor's manicure was made with diamonds and gold — and a lot of them. Brittney Boyce, celebrity nail artist and founder of Nails of LA, partnered with Jillian Sassone, founder and creative director of Marrow Fine Jewelry, to create the dazzling yet edgy set worn by the actor.
According to an email from Marrow, the process was complex. First, Boyce used Apres GelX Extensions to create the dramatic stiletto shape, molding the nails to fit the shape of Fox's nail beds for the most natural finish. Next, the nail artist 3D scanned each nail form and let them all grow in wax. Then, all 10 were cast in gold. Finally, Boyce carefully placed 15 diamonds on each nail to create the crosses. And the final result is blinding.
While subtle, shimmery pearl nails reigned supreme in 2022, celebrities began embracing glitter manicures at the tailend of the year, and Fox's diamond-embellished stiletto nails at the 2023 Grammys further signal the rising shift to maximalist sparkly styles. Take a closer look at the actor's manicure below.