Mariah Carey's Commitment To Maximum Glamour At All Times Dates Back To 1991
A look back at the Songbird Supreme's coolest moments.
Ethan Miller/WireImage/Getty Images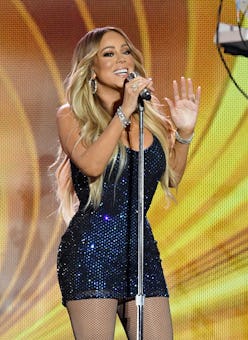 In every possible even quantifiable sense, Mariah Carey is a living legend — and she's only halfway through her 50s. She's dominated nearly every aspect of the music industry, smashed a mind-boggling number of records, and continues to resonate with younger generations thanks to her commitment to timeless work and subtle yet impactful reinventions. And frankly, that goes for her music and her aesthetics. Carey's beauty evolution follows a similar pattern. It's all grounded in the classic diva glamour that runs like a through-line from originators of the genre to the modern megastars like Carey herself, and it's part of what makes her glitter-soaked brand so completely enchanting.
When Carey first stepped onto the scene, a newly-minted 21-year-old with a powerhouse voice far beyond her years, it was clear that she was a different type of chanteuse altogether. She wrote her own songs, building her brand on a blend of especially clever wordplay and a vocal range considered one of — if not the — greatest of all time. The thing is, though, she does it all with unapologetic femininity and an outspoken love for the finer things in life. You'll never catch Mimi without her long, flowing hair, luminous cheeks, and shimmery lipstick.
Ahead, take a look back at Carey's beauty evolution, tracking her growth from the sweet young songstress she started as to the global megastar she quickly became.
Natural Curls, 1991
Only one year into her studio career and already Carey was a Grammy winner and owner of the prettiest natural curls. Like so many others in the '90s, she maximized her ringlets' volume with layers and staggered bangs to add even more height.
Bridal Beauty, 1993
At her early '90s wedding to Tommy Mottola, Carey incorporated the decades' top trends with her own born-with-it features. Her warm brown curls are in peak form, with her shorter bangs likely put into rollers for the big day, while her frosty brown lipstick is a hallmark of the era.
Wispy Bangs & Red Nails, 1995
Carey's finer, shorter fringe was still going strong in 1995, though she was pivoting away from classic lipstick in favor of shimmering lipgloss. That particular shade of rich ruby nail polish was everywhere during that time, too — and by the way, it's back again.
Face-Framing Layers, 1998
Sure, you could call this inward-curled layered haircut "The Rachel," but the way Carey wears it makes it completely her own. Note the new addition of sunny highlight streaking from roots to ends, but her beloved lip gloss is still ever-present.
Extreme Blonde & Bangs, 2001
Not to kick off any arguments, but try watching Glitter in 2023 with an open mind and a campy spirit — you'll understand Carey's vision for the film and accompanying soundtrack, which she promoted heavily through 2001. Her look got a change-up for the new millennium, including a much brighter blonde hair color with a shorter cut and some very Y2K side-bangs.
Early Aughts Glamour, 2003
In a prom-perfect half-ponytail, Carey's iron-styled curls can really show off their length and that gorgeous golden honey color. On the makeup front, Carey was all about coordinating her lips and cheeks — here, they're both done up in the prettiest shade of delicate pink.
Bronzed All Over, 2005
Behold — the Mariahssance. With the release of her blockbuster album The Emancipation Of Mimi, Carey reignited her entire career with a white-hot vengeance. To mark this major new milestone, her look through the era was all about bronzed cheeks, body shimmer, and major hair length and volume — complete with a new, gold-toned brown sugar shade.
Sporty-Chic Updos, 2008
An outspoken lover of all things hyper-femme, would you expect Carey to throw out a ceremonial first pitch in anything other than high-heels and a Sporty Spice ponytail? Likely enhanced with some extensions, it starts above the crown of her head for a jaunty look, while the pink barrettes match her satin jacket.
Modern Middle-Part, 2011
By 2011, things start to feel more contemporary. Carey embraced a softer, more subdued look, but never abandons her signature luxe touches, like a sultry, smoky eye and a pink lip-cheek combo. Her hair part might have migrated to the center, but her brushed-out curls are gleaming as ever.
Extreme Side Bangs, 2014
But if Carey's going to do anything, it's keep you guessing. When she stepped out on the red carpet with then-husband Nick Cannon, her extreme side-part and concealer-faint lipstick felt like such a major departure from her usual.
Pigtails & Glitter Gloss, 2017
Playful is a great way to describe many of Carey's best beauty moments — as you know too well, the woman loves a theme. For an outing at the Kids' Choice Awards, she leaned into youthful fun with braided-back half-pigtails and a lip gloss so sparkly, it looks practically diamond-studded.
Christmas Queen Curls, 2020
At this point, everyone just ignores the calendar and waits for Carey to declare when the Christmas season officially starts. When you hear her melodic whistle note calling out, "It's tiii-iiime!", know that you're in for mall Santas, carols, and Carey's signature holiday glam. She usually goes for an amplified version of her usual favorites, like pumped-up curls, smoky eye makeup, and a glossy lip — the festivity is more evident in her outfits.
Grown-Up Ombré, 2023
These days, Carey looks better than ever. She's been loving extra-long hair in a warm, "melted" ombré blend, classic French tips, and that ever-reliable pink blush-gloss jackpot.