Lizzo's Dramatic New Haircut Exudes 'Rich Aunt Vibes' In The Absolute Best Way
Obsessed is an understatment.
@lizzobeeating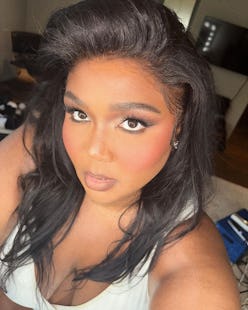 It's still relatively early in the trend lifecycle, but it's probably safe to say that Lizzo's curly bob with bangs will go down as one of the best short-hair transformations of 2023. This year is already shaping up to be a big moment for bob haircuts, and January isn't even over yet. Just a few days ago, Hailey Bieber nearly broke the internet with her dramatic chop, debuting a chin-length blunt cut with her millions of TikTok followers. Now, Lizzo has followed suit — but of course, she put her own totally unique spin on the trend. The star dropped a series of selfies on Instagram revealing her transformation, and even shared a selfie video showing the voluminous new cut in action.
"ITS GIVING BOBBIANA," Lizzo captioned the post. In place of her usual long, dark hair, the singer is wearing a short, curly bob falling just above her shoulders. The style, which, considering Lizzo's love for extreme looks is presumably a wig, also features piece-y bangs and blonde highlights. Along with her blazer and black cat-eye sunglasses, Lizzo's new bob is giving off serious rich aunt vibes — you know, the aunt who travels the world, looks fabulous while doing it, and always manages to bring home the best gifts? Later in the carousel, she also shared a photo of her latte, which has an incredibly detailed portrait of the star drawn into the foam. All in all, the opulence is off the charts — and followers took note.
"You're serving as per usual," one user wrote. "You taking a sip of yourself is everything! 🙌" said another. Lizzo's transformation also drew comments from her famous friends, like Queer Eye star and JVN founder Jonathan Van Ness. "I want Lizzo latte or cappuccino art only & forever," they wrote. Fellow musician SZA said: "Ur so pretty and cool Marsha 😍"
Though the star didn't mention her glam team in the post, her bob is likely courtesy of her go-to hairstylist, Shelby Swain. To complement her new short look, Lizzo went with a classic glam makeup look. Behind her sunnies, you can see that she has a soft smoky eye and fluttery falsies. She also opted for a sun-kissed blush and a nude, glossy lip.
If you've been thinking about going short with your hair, now is the time — just let celebrity transformations like Lizzo's be your guide.