Kendall Jenner's Love For Tortoiseshell Patterns Now Extends To Her Hair Accessories
MEGA/GC Images/Getty Images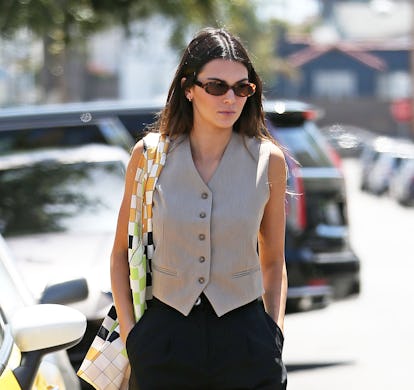 There are girls on the go, and then there is Kendall Jenner — seeing a photograph of her taken in Calabasas rather than traveling for work is practically cryptid-level rare. But Jenner's mind-bending road schedule is everyone else's gain, because she's always showcasing the best outfits, hairstyles, and accessories, all perfect for even the busiest times of year. Her latest move is so simple yet satisfying, a low-key way to nail an updo while in motion without sacrificing any of her signature sophistication. Jenner's tortoiseshell claw clip is one you likely already have in your collection, but her way to wear it is worth learning.
Jenner was first seen with the brown-and-black clip nestled into her hair as she made her way to Madison Square Garden, taking a quick break from work to take in the Luis Miguel concert with beau Bad Bunny. Jenner's ombré brunette waves were gathered up into a pseudo French twist and secured with the dainty, speckled accessory right at the base of her head. Notably, she left her end pointing downward and somewhat loose, allowing for a bit of flow while the rest of her glossy hair was held firmly in position by the curved clip.
The other key component to zero in on here is the pattern of the clip. That timeless tortoiseshell design is so beloved for its subtle incorporation of both brown and black, making it the ideal neutral accessory for any hair color. Jenner in particular gravitates toward it quite a bit. She has more than a few pairs of sunglasses in the style, and even showed off a tortoiseshell French manicure, a move actually co-signed by bestie Hailey Bieber earlier this month.
What might be more impressive than anything, though, is just how much hair Jenner was able to stuff into such a tiny clip. Of course, the claw-style hair accessory comes in a variety of sizes, but Jenner's looks to be on the smaller side. Maybe she's trawled through the same TikTok tutorials as everyone else and actually managed to make it work — a legitimately impressive feat.
The tortoiseshell trend will likely only grow as fall creeps along, and one of the easiest way to incorporate it is through hairstyling. As Jenner beautifully demonstrates, it's a quick dose of '90s-style quiet luxury made for virtually any occasion.