If You Experiment With Just One Type Of Fall Nail Art This Year, Make It Hailey Bieber's Latest Look
@haileybieber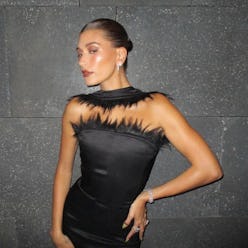 Despite her recent penchant for more straightforward, traditionally sophisticated manicures, Hailey Bieber's love for nail art never went anywhere — it just got that much more subtle. It's true that her most favored styles these days aren't as over-the-top as they were in years past, but that doesn't mean she's abandoned all that creative intricacy. Just look at Bieber's brown tortoiseshell nails designed for an especially important trip to Paris Fashion Week. At first glance, they appear coated in an all-over shade of milk chocolate nail polish (in and of itself very popular right now), but closer examination and the right lighting reveals that they're speckled with different shades of brown to form the instantly-recognizable pattern. The low-key design and muted color palette help Bieber walk the line between her beloved "quiet luxury" manicures and more overtly fun alternatives. Truth be told, it might just end up one the most requested nail styles of fall-winter 2023.
Fans first noticed Bieber's under-the-radar art when she started posting behind-the-scenes shots of her time in Paris. Professional event photography made her manicure look like a glossy, solid shade of brown, but Bieber's iPhone selfies really reveal all the spotted detailing down the length of each nail.
Pascal Le Segretain/Getty Images
While the shades of deep espresso, warm brown, and all-over orange tones fit right in fall's trending nail polish colors, the pattern itself is still surprisingly rare, even among celebrities. Blake Lively and Bieber's bestie, Kendall Jenner, have both tried the look out, but its otherwise rather few and far between. However, the minimalist art fits right in with Bieber's other most recent nail choices. Just before the tortoiseshell, Bieber had a yellow-on-yellow French manicure that incorporated "invisible" tips to keep the design from veering too contrastingly bold.
While Bieber didn't mention exactly which artist is behind her new look, there's a solid chance it's celebrity manicurist Zola Ganzorigt, who created the yellow tips as well as most of Bieber's most notable nail designs in general.
Really, Bieber's tortoiseshell pattern and neon yellow French manicure seem to hint at the next big wave of nail art in general — they're both a way to maintain some semblance of minimalism without sacrificing any fun or self-expression. What's better than some hidden detailing?