Julia Roberts Looks Like The Quintessential Tumblr Girl With These Dramatic New Bangs
Who wouldn't reblog this look?
NDZ/Star Max/Getty Images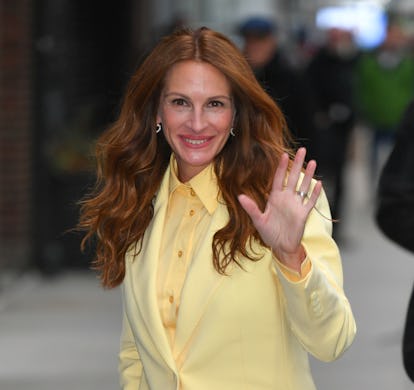 Time does indeed appear to be a flat circle. Just as society was settling into the ubiquity of curtain bangs and wispy fringes, they seem to all be fading now in favor of something a bit more...familiar. Back in 2007, virtually every reality starlet, every A-list film titan, and every burgeoning internet influencer needed a chunk of razor-cut hair falling diagonally over one eye — not only were side-bangs a legitimately enduring trend, but it ultimately helped define the entire era. Now, the look is back, but not without a tailored twist. Julia Roberts' long side-bangs are noteworthy in and of themselves, but the new haircut makes her one of several stars to try the quintessential 2000s style in the past year alone.
Beloved for their low-maintenance length and universally-flattering positioning, Roberts joins Amal Clooney, Rihanna Kim Kardashian, and Gabrielle Union as newfound celebrity side-bangs fans. In Roberts' case, though, the eye-obscuring cut might be part of a strategic grow-out plan. Spotted at the Gucci Spring/Summer 2024 show, side-swept fringe melts right in to the rest of her red-toned waves. Back in late March of this year, she debuted an extreme set of '70s-inspired blunt bangs, so it's reasonable to assume she's trimmed and repurposed them — which is really one of the best things about long fringe in general.
GABRIEL BOUYS/AFP/Getty Images
GABRIEL BOUYS/AFP/Getty Images
What makes Roberts' version of the "vintage" style feel so fresh and modern, however, comes down to the neat, polished shape and the rest of her hairstyling. The side-bangs of yesteryear were distinctly, intentionally haphazard, not unlike much of the era's fashion. The goal was to simultaneously pile as many accessories, patterns, and bold colors as possible, then top it all off with undone elements: ripped jeans, an aesthetically incongruous hat, or, typically, grown-out, tousled side-bangs.
As an experiment, type "red carpet 2007" into any search engine. You could take a swig of a cocktail for every side-bangs look you scroll pass, but that would turn deadly almost immediately — they were just everywhere. Interestingly enough, it was a legitimately long-lasting trend, seeping well into the 2010s when they became part of the prototypical "Tumblr girl" vibe.
Rihanna and Victoria Beckham, both circa 2007.
Theo Wargo/WireImage/Getty Images
Christopher Polk/FilmMagic/Getty Images
Regardless of Roberts' intentions behind her own fresh set of side-bangs, there's no denying that the perma-A-list actor has gotten more experimental in 2023 than she has in several years. Fortunately for fans, her winning streak shows no signs of waning.