Jennifer Lopez's Fall Sweater Suggests Her New Album Could Drop Any Day Now
We're ready to press play on the "Dear Ben Pt. II" track.
BG020/Bauer-Griffin/GC Images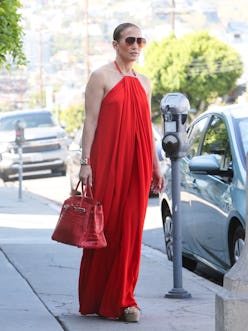 We may receive a portion of sales if you purchase a product through a link in this article.
Jennifer Lopez doesn't hold back when it comes to showing the world just how much she loves Ben Affleck. From wearing a gold necklace with his name on it to praising his parenting skills in interviews, the singer and actor is clearly smitten with her husband. This year, she has a new studio album coming out and that, too, is inspired by her and Affleck's relationship. The title for it, if you're wondering, can be found in her recent outfit, which she wore in Paris on Aug. 7. In a rather smart subliminal marketing tease, Lopez rocked a Lingua Franca sweater with the words "This Is Me ... Now" stitched in green across the front.
Now unless you're a J.Lo stan, you probably didn't know what the top was referencing at first, but here at TZR let's just say we're on top of all the details. If you need to catch up, here's the low down: Lopez first talked about her upcoming ninth album in a December 2022 Vogue interview. She shared that the project will reflect who she is as a person and artist. "People think they know things about what happened to me along the way, the men I was with — but they really have no idea, and a lot of times they get it so wrong," she said, touching on what inspired her to write music again. "There's a part of me that was hiding a side of myself from everyone. And I feel like I'm at a place in my life, finally, where I have something to say about it."
This Is Me ... Now will serve as a sequel to Lopez's 2002 album titled This Is Me ... Then. The new record will also include a "Dear Ben Pt. II" song, the sequel to "Dear Ben" from 2002. Given the romantic history between Lopez and Affleck (for the CliffNotes version: they were engaged in 2002, parted ways in 2004, then reunited in 2021, and married in 2022), you can likely expect the singer's tracks will be filled with reflections and emotions.
Earlier this summer, she posted a black-and-white photo of herself with the caption: "album delivery day." That, coupled with her cozy sweater from this week, has certainly built up the internet's anticipation for her new songs. While you wait for the lyrics to drop though, shop similar knits to her's ahead. You can style the tops à la the star with jeans, a scarf, and sunglasses or work it into your fall wardrobe with a denim maxi skirt and ballet flats.