Follow Jennifer Lopez's Makeup Placement Roadmap When You Want To Look Extra Sculpted
@jlo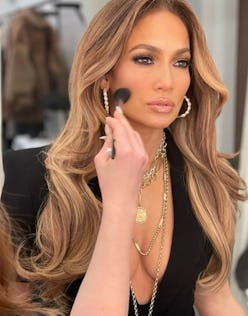 Just concluded, Leo season was especially good to Jennifer Lopez this year. Between her 54th birthday celebration, her one-year wedding anniversary to husband Ben Affleck, and all of the high-profile brand projects she's juggling, Lopez honestly might be having the best summer of anyone you know. With still a few weeks left in the season, Lopez seems to still have a few tricks up her sleeves — and based on her sly smile in a sultry new photo, it's going to be major. In true J.Lo fashion, though, even an off-the-cuff selfie is inspiring. Lopez's blush placement in the photo is worth studying, as is the rest of her very strategically-applied makeup.
First, it's time to analyze the signature "J.Lo glow"-style makeup that's become her glam calling card over the past 30-ish years. In the new picture shared to her Instagram, in which she wear tangles of luxe Azlee Jewelry, all the key components are there: the sultry, smoky eye makeup using exclusively soft, earthy shades to complement her lovely skin tone and brown eyes; the fluttery lashes; the glossy, nude-pink lips; and, of course, a warm wash of blush spread across her cheekbones. Importantly, that blush stays concentrated along the tops of the apples of her cheeks, never in the center or too close to her nose. By keeping the color up high and nearer to her temples, the makeup helps lift the look of the face for that ultra-trendy "snatched" look.
In the selfie's tags, Lopez revealed that celebrity makeup artist Hrush Achemyan is the creative behind her stunning look for the day. That hyper-glam, totally seamless cosmetic style is one of Achemyan's trademarks, especially popular with Lopez's fellow stars and everyone with a TikTok account — and it's easy to see why.
If you have a rounder face or are just after a more lifted appearance, copy Lopez's trick at home. Here's an easy hack: put two fingers right next to your nose and only apply blush on the other side of them. This prevents you from depositing the color too close to your nose, which makes the face look rounder. Of course, if you deal with volume loss or you want a more circular look, simply do the opposite. Boom.
For more tricks, just follow Lopez — even a casual selfie is like a makeup masterclass in and of itself.