Jennifer Lopez's Birthday Party Hair Confirms It — She's Queen Of Leo Season
@jlo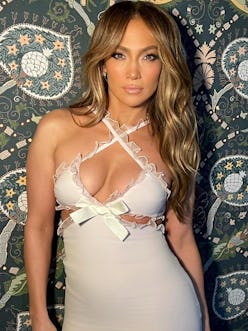 This is only a guess having never actually met her in person, but doesn't Jennifer Lopez seem like she kills at parties? She's fun, she's gorgeous, she's social and quick-witted — everything you want in an attendee. And that goes double for events where she's the guest of honor. A Lopez-thrown soiree boasts a tighter invite list than some award shows, but if the new photos from her birthday party are any indication, a V.I.P.-only mandate is more than justified. At her big outdoor bash to celebrate turning 54, Lopez's half-ponytail, smoky eye makeup, and hip-hugging silver gown sparkled in the Los Angeles sunlight as she rang in the new year by dancing on tabletops and toasting with friends. Even if you didn't know her actual birth date, you can infer her astrological sign from the party pictures alone. It simply doesn't get more Leo than Lopez.
Defined by a loud-and-proud self-confidence and a downright animal magnetism, Leos are essentially the pop stars of the Zodiac world — very fitting for the This Is Me...Now singer. And, in line with Leo's trademark lion symbol, she has one of the best manes around. For the backyard event, Lopez went without the long, sweeping extensions she typically wears on the red carpet and on-screen, instead gathering her highlighted natural hair into a sleek, half-up style that's equally functional and fabulous.
Lopez loves a partial pony moment in general, recently wearing supercharged (read: extension-enhanced) versions of the style for major events like the 2023 Grammys, her big Marry Me premiere, and even her Vegas wedding day. The style's appeal is obvious, allowing for a fresh-feeling focus on the face while still allowing hair to flow free.
To finish off the Leo season look, the birthday girl stayed true to her most reliable makeup strategy, opting for a dewy complexion, some fluttery falsies, and a nude-colored coat of gloss. While some love to go all-in on a high-glam party look, Lopez's choice to wear her most beloved hair-makeup-outfit combination is like a self-homage to her signature style. If it's been working for 54 years, why change it?