Jennifer Lopez's Cozy Gray Nails Are The Mani Equivalent Of Your Favorite Cashmere Sweater
@chrisappleton1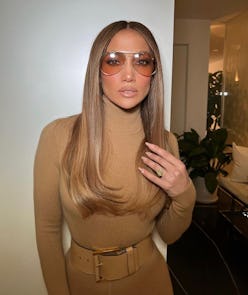 We may receive a portion of sales if you purchase a product through a link in this article.
It might seem like fall just snuck up on the world. Everyone was cruising through the summer, enjoying patio drinks and tube tops — seemingly overnight, they were all traded for nutmeg-y lattes and shirts with actual structure. But like all true visionaries, Jennifer Lopez has already been here for a while. While neons and bright designs were still on most's minds, she was plotting on all the best fall manicure shades and styles — now, she's ahead of the pack. Case in point: Lopez's gray nail polish, which is essentially the beauty version of your absolute favorite cashmere sweater. It's the sort of versatile autumn essential you can live in all season, and Lopez got a jump on being the first to wear it.
Naturally, it was Lopez's favorite celebrity manicurist, Tom Bachik, who debuted the striking new color over on his Instagram. "A cozy sweater weather mani," he captioned the shot, a close-up look at the shade against the background of Lopez's luxe tweed coat. This time around, she opted for long, squoval-shaped nails — that's an ultra-trendy hybrid of square and oval — with no extra art or adornment. But with a manicure this glossy and perfectly-applied, nothing else is really needed.
While many of the season's most popular manicure shades trend on the warmer end of the spectrum, Lopez's pale gray is a perfect cool-toned alternative. Crucially, the look hinges on a subtle incorporation of taupe — that's what keeps it all from veering too close to a concrete color. And as beloved as the monochromatic beauty trend is in general, opting for a gray can help break up all the browns, siennas, beiges, oranges, rusts, and ochres found in the typical fall wardrobe.
Somewhat surprisingly, grays actually seem to be one of Lopez's least reached-for color palettes. She's experimented with deeper, brown-steeped grays before, but a quick review of her fall manicures from the past few years reveals that she's far more likely to opt for a dressed-up nude — often accented by a little bit of sparkle or hand-drawn art — or a fully warm-toned polish. But that's part of what makes her current look feel so fresh.
For those already clamoring to try the shade at home, Bachik revealed the exact product recipe he used on J.Lo. After prepping and shaping the nails with his own Tom Bachik x Tweezerman kit, he used an Après Nails polish in the shade Sweater Weather before topping the whole thing off with an extra-glossy top coat.
And there you have it — your next manicure, already figured out. Another thing off the list. Shop these Lopez-inspired nail polishes below.