Jennifer Lopez's Newest Rich-Girl Manicure Was Made For Sipping Spritzes On A Yacht
@jlo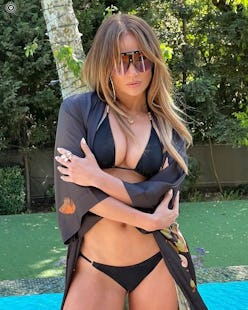 Oh, to have access to Jennifer Lopez's iCal. Based on the daily pap shots alone, it seems like Lopez and her family have seriously jam-packed schedules, piled high with personal and professional commitments. But you know what they say — if something's truly important, you'll find a way to make time for it. In the This Is Me...Now singer's case, that's carving out a calendar block for fresh, trendy manicures nearly every week. It's the gift that keeps on giving, though, as evidenced by Lopez's "summer blush" nails. The milky pink polish color is right in line with the light, breezy tones of the season, but the glossy, nearly pearlescent finish also happens to be a current J.Lo favorite — as well as an ever-popular trend in Hollywood and beyond.
The slightly shimmery manicure popped up on Instagram first, shared by its creator, celebrity nail artist Tom Bachik. "A barely there, subtle shade that makes nails look young and fresh," he explained in the video caption as a just-polished Lopez turns and flexes her hands to give a full 360-degree view. He's right — the soft baby pink adds enough pigment for contrast, the shine is mesmerizing, but it's neutral (and natural) enough to suit everything in her massive wardrobe. And fun fact: celebrity fashion stylist Rachel Zoe, always the marketing mind, was actually the one who coined "summer blush" for the look, the video's comment section revealed.
As the quiet luxury trend rages on, Lopez seems to be totally on-board. Over the past several weeks, she's gravitated toward more low-key yet undoubtedly neat and timeless manicure colors, like her frosty "French vanilla chrome" look debuted in the final few days of May. Can't you see Lopez languidly adjusting some oversized sunglasses on an anchored yacht with both sets?
Lopez seems especially motivated this summer, launching new brands, premiering new films, buying a massive new home, and celebrating her first year of marriage with husband Ben Affleck. For her fans, that means just-dropped hair, makeup, fashion, and manicure inspiration practically weekly — and to be so bold as to speak for everyone, we'll take it.