The Spring/Summer 2023 Fashion Campaigns Are Packed With Star Power
Kendall Jenner and Gigi Hadid included.
Marc Jacobs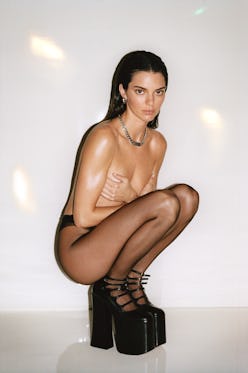 Like clockwork, the Spring/Summer 2023 fashion campaigns have arrived. If you recall, designers first showcased their seasonal collections back in September 2022. And now that we're inching closer to the first day of spring, which is on March 20, brands are eager to remind you of all the new products that are arriving in stores and online. Take a look at Marc Jacobs and you'll note the must haves next month are the Lili platform boots and The Tote Bag. Meanwhile, over at Jimmy Choo, shoppers will want to scoop up its two-tone OTK boots or, perhaps, save your paycheck for a silky dress from Prada (as seen on Hunter Schafer).
As you take in each accessory and clothing piece from the campaigns, you'll also feel the celebrity presence in the imagery. Almost every label tapped notable actors and models to star in their ads, with some Hollywood faces appearing for multiple brands. Gigi Hadid, Emily Ratajkowski, and Kendall Jenner lead the modeling pack in securing many of the top fashion campaigns, with each person bringing her own pizzazz to set. Ratajkowski even brought along a special guest to star in her Tory Burch photo shoot: her son Sylvester Apollo Bear, who adorably wore a green alien costume. Unfortunately for those wondering, the extraterrestrial ensemble will not be part of the label's new spring drop — sad, we know! But there will be plenty of other warm-weather dresses, tops, and skirts to make up for that.
Jump ahead to see all the star-studded imagery, then stay tuned as this story will be updated with more campaigns as they roll in.
Marc Jacobs
Kendall Jenner and Irina Shayk star in Marc Jacobs' Spring/Summer 2023 campaign, photographed by Tyrone Lebon. The models showcased the brand's must-haves for the season, from its Tote bag to Lili platform boots.
Givenchy
Selena Forrest and Gigi Hadid strike their best poses for Givenchy's Spring/Summer 2023 campaign. Hadid is in a ruched backless dress with matching gloves from the house while cradling its Voyou bag while Forrest rocks a backless, draped gown — this is her first campaign for Givenchy.
Jimmy Choo
After starring in Jimmy Choo's campaign last season, Kendall Jenner is back for its Spring/Summer 2023 ads. The images were photographed by Carlijn Jacobs around New York City. "Jenner embodies the ethos of the Jimmy Choo woman with her timeless glamour and effortless energy within the quintessential city skyline," says the press release.
Prada
Familiar Prada muses like Hunter Schafer and Letitia Wright return for the label's Spring/Summer 2023 campaign. According to a press release, "these images draw upon the characteristics of classic Hollywood and European movies [and showcase] a tension between different views, of different lives ... [Since] actors and models by their very nature encapsulate an otherness — [this] campaign plays off that multifaceted nature..." Photographer David Sims shot the images.
Alaïa
Supermodel Cindy Crawford was a close friend of Azzedine Alaïa, so naturally when the label was selecting a face for its Spring/Summer 2023 campaign it turned to Crawford's mini me: Kaia Gerber. The 21-year-old's star power shines brightly in the images above, which were shot by Tyrone Lebon at Sterling Ruby Studio in LA. "Kaia wanted to shoot in Los Angeles, in a family environment. I immediately thought of the studio of the artist Sterling Ruby, a close friend. I admire his work and have always been inspired by him," says Alaïa's Creative Director Pieter Mulier. "Kaia fascinates me because she never stops evolving ... she embodies beauty, but also intelligence, movement, and empowerment.."
Self-Portrait
self-portrait/Tyrone Lebon
Gigi Hadid stars in Self-Portrait's latest campaign, which was shot around New York City by British photographer Tyrone Lebon. "We wanted to give the collection a rawness and sensuality," said Han Chong, Self-Portrait's founder and creative director, in a statement. "Together, Tyrone and Gigi brought this attitude to life through a series of videos and images shot on a parking lot in New York, the result is honest, natural, feminine, and magical." The color palette is bright and cheerful for the season as evidenced by the green, pink, and orange tones while pieces range from elegant gowns to statement swimwear. You can shop the spring/summer drop now, online.
Bottega Veneta
If Bottega Veneta's Spring/Summer 2023 runway show still lives in your head rent free, then check out its latest campaign imagery. You'll notice the house tapped Kate Moss to star in the ads and she's wearing the same outfit she wore on the catwalk back in September. The campaign was shot all over Milan, Puglia, and Australia — giving the images an air of international excitement and wanderlust.
BOSS
BOSS' seasonal campaign is jam packed with celebrities, from supermodel Naomi Campbell and Gigi Hadid to South Korean actor Lee Min-Ho and Colombian singer Maluma. The heart of the ads showcases talents from various fields, who share their origin stories to inspire individuals to embrace their destinies. Hence, everyone holds up a childhood photo of themselves as proof of how far they've come in their careers. "These BOSS personalities always knew what they wanted, and their breakthroughs were achieved through a series of personal choices," reads the press release. "While destined for greatness, they neatly personify the fact that BOSSes aren't born — they're made."
Tory Burch
Tory Burch/Jamie Hawkesworth
After walking the Tory Burch show back in September 2022, Emily Ratajkowski was back again to work with the brand on its Spring/Summer 2023 campaign. This time, she brought on set a special guest: her one-year-old son Sylvester Apollo Bear. According to a press release, the advert celebrates "the strength of women and the power of femininity, motherhood, and family — including the family you choose," thus making Sylvester's appearance in the photos all the more meaningful.
Versace
Versace/Mert Alas & Marcus Piggott
Versace's Spring/Summer 2023 collection is the opposite of soft/delicate with its leather jackets, studded skirts, and laser-cut denim pants. "The Versace woman is strong, purposeful, and always the leader of the pack. This season I love her in black or bold colors and powerful silhouettes," said Donatella Versace in a press statement. The hard and moody vibe notably comes through in the campaign, which stars Emily Ratajkowski as the new face of Versace (she's been busy!).
GCDS
Nicola Peltz Beckham takes center stage in GCDS' seasonal advert, shot by photographer Zhong Lin under Creative Director Giuliano Calza's artistic direction. "Zhong is a visionary. All it takes is one look and we get each other. Every time we work together, we create new, powerful and inspiring images, whose fantasy world comes to life on a velvet carpet," says Calza in a press release. The vibe in the photos is a gothic-tinged mood meets a bold kaleidoscopic aesthetic.
Wales Bonner
Wales Bonner/Malick Bodian
For Wales Bonner's Spring/Summer 2023 campaign, the brand takes its models to the Palazzo Medici Riccardi in Italy, where, according to a press release, "Afro-Atlantic presence [meets] European splendor." The models debut a variety of looks from the label, which are meant to showcase the expery hand craftsmanship and attention to detail Bonner is known for. "Hand dyed jerseys and woven cottons [are] made in Burkina Faso [West Africa] alongside opera coats crafted from silk jacquard designs developed specially by the House of Charvet in Paris, [which unite] hand making traditions across continents," read the release. For more, check out walesbonner.net.