Work Out Like Jennifer Garner With This Home Fitness Equipment
The 2023 inspo you've been looking for.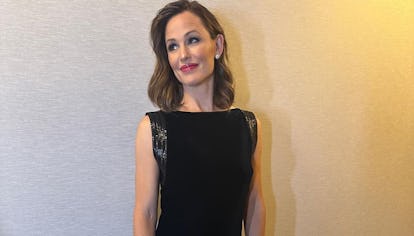 We may receive a portion of sales if you purchase a product through a link in this article.
If you're looking for some at-home fitness inspiration, Jennifer Garner has you covered. On January 18, the actor shared a video on Instagram of her working out in the comfort of her Brentwood home. In it, you can see her smiling her way through a variety of intense moves, including squats, box jumps, and burpees. She captioned the post in light and funny way that is typical of the actor: "If your kids call your workout Jazzercise and it nearly kills you to complete it, do you have the right to video yourself and put it out there to haunt them when they are fifty?"
Garner tagged @bethjnicely, also known as Beth Nicely, a personal trainer, dancer, and founder of fitness program THE LIMIT, which focuses on athleticism and strength through dance, HIIT, and tone-based workouts. The classes are led by Broadway performers, professional dancers, and Rockettes — and they're all certified trainers, too.
It seems Garner might be on her way to becoming a fitness pro herself. The actor's Instagram feed offers frequent glimpses into her workout routine, which seems to be an important element in her life. You may remember that, last year, she did an Instagram series called "50 Before 50," featuring the 50 days leading up to her 50th birthday. Each day, she'd post a photo or video of something she loved or was grateful for, whether it was baking in her kitchen, or a random act of kindness. Much of the content within in the series also included her working out with Nicely or alone. (Garner is apparently a big fan of box jumps.)
Back in early 2021, Garner spoke openly about fitness and accepting her body as-is in Giovanna Fletcher's Happy Mum, Happy Baby podcast. "There are some incredible women whose bodies just, no matter how many babies they have, they bounce right back to that slim-hipped, no stomach," she'd said. "I am not one of them. That is not my gig." She went on to say, "I can work really hard, and I can be really fit and I will still look like a woman who's had three babies, and I always will."
If you're interested in upping your fitness game and mirroring Garner's latest Instagram workout, here's some exercise equipment you can add to your at-home gym.