Jennifer Garner's Blonde Bowl Cut Is So Deliciously '70s
Albert L. Ortega/Getty Images Entertainment/Getty Images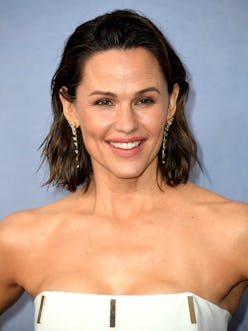 A beloved signature style is always excellent, but it's a willingness to experiment that separates the trend-followers from the trend-forgers. Jennifer Garner has always resided firmly in the latter camp — her breakout role on Alias was essentially a five-year series of colorful wigs and elaborate disguises. But that adventurous spirit is still all over her work, including a recent photoshoot that shows off some of her coolest looks yet. Jennifer Garner's blonde bowl cut for Allure magazine is shaggy, '70s, and a total 180 from anything resembling her usual hair — but that's what makes the entire spread so excellent.
The bright blonde bowl cut made its debut on Instagram, where Allure shared the new photos along with choice quotes from Garner's interview. Along with the tapered shag, the star tried on a bright red wig (another clear Alias nod) along with some edgy styling on what almost looks like her own hair — or a flawless approximation of it. A pink-tinged, dark blonde micro-bob, the cover photo features a much closer-cropped (and lighter-toned) cut than the shoulder-skimming waves she's had lately. With all the assorted haircuts, styles, and colors involved in the photoshoot, though, one thing's clear: Garner's versatility remains totally unrivaled to this day.
Of course, it's not just the pictures that make Garner's new cover appearance such an exciting one. In an in-depth interview conducted by the magazine, she opens up on everything from motherhood, divorce, her past projects, and current, thriving social life. Garner also touches on her beauty routine, crediting celebrity hairstylist Adir Abergel's Virtue line (for which she's a spokesperson) for her hair's thick, touchable volume. "It actually works," she tells Allure, adding, "I'm religious about the shampoos and conditioners — they're total game changers."
Now that the Allure cover shoot is over with and published, Garner has, as expected, already returned to her classic, sun-streaked brunette waves. But her parade of exploratory, deeply expressive hairstyles is always an exciting reminder of exactly what she's capable of beyond her day-to-day favorites, too — she can take on truly anything.