Jennifer Coolidge Just Proved She Could *Easily* Be TikTok's Top Influencer
She's making 'dolphin skin' a thing.
Courtesy Of e.l.f. Cosmetics eyes.lips.face.sticky Ad Campaign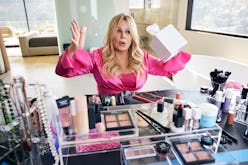 We may receive a portion of sales if you purchase a product through a link in this article.
You don't become a generation-defining beauty brand by not knowing your audience. Over the years, e.l.f. has perfected the art of giving the people what they want, but this latest collaboration is more than anyone could have hoped for. In Jennifer Coolidge's e.l.f. Cosmetics commercial, just aired in the Super Bowl's second quarter, the iconic actress is dewy, glowing, and paired up with a different sort of icon: the e.l.f. best-selling Power Grip Primer. For the brand's inaugural television commercial, The White Lotus star finds herself in a series of sticky situations — quite literally — as she learns first-hand just how serious the fan-favorite primer really is.
The ad opens with Coolidge wrapped in a fuchsia robe, seated at her vanity for a makeup touchup. Patting on a bit of the best-selling primer, she immediately marvels at the hydrating, radiance-boosting effect that works both under and over makeup — and how strong Power Grip can be. The e.l.f. Super Bowl commercial also doubles as an answered prayer for fans of The White Lotus, too. If you get distinctly Tanya-ish vibes from Coolidge's fluffy pink phone case, smoky eye makeup, and dolphin squeals, there's a reason — the ad was actually co-written by Mike White, creator of the HBO series.
In a press release distributed by the brand, Coolidge explains that the collaboration comes from an organic place, partially fueled by her own love for cosmetics. "I've always been passionate about vegan and cruelty-free beauty," she says in the release. "Years ago, I studied makeup artistry and that really shaped my relationship with beauty. I adore e.l.f. Cosmetics' accessible, incredible products."
While it's understandable if you're still stuck in an endless commercial re-watch loop (did anyone else notice her ultra-trendy cat-eye nails?), there's more to this partnership than just a hilarious clip. Released in tandem with the ad, e.l.f. is offering a special limited-edition The Dolphin Face Bundle exclusively on elfcosmetics.com, which comes complete with the Power Grip Primer, Halo Glow Liquid Filter, and O FACE Satin Lipstick. Shop the Coolidge-approved set just below.