15 Oscars Outfits That Went Down In Fashion History
Who can forget this 2012 Angelina Jolie look?
Ethan Miller/Getty Images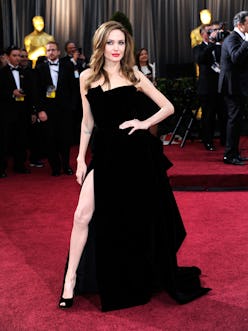 On March 12, the 95th Academy Awards will conclude the award show season. Everyone's waiting in anticipation to see who will win the major categories like Best Actress, Best Actor, and Best Picture (we're rooting for you Michelle Yeoh!). As much as the night's events celebrate the actors and films, there's also a major focus on the fashion. Stars always bring their outfit A-game to the grande finale of award season. In fact, as you'll see ahead, the Oscar's most iconic looks have run the gamut from over-the-top dresses to smart-looking pantsuits.
TZR went through the image archives to highlight some of these incredible style moments from the past. Outfits to note include Audrey Hepburn's Givenchy number from 1954 — she wore the lacy dress when she took home the Best Actress award for her role in Roman Holiday — and Gemma Chan's candy-colored Valentino creation in 2019. (We loved that the gown had pockets to hold her snacks!) Year after year, celebrities take this one Sunday night to showcase their unforgettable outfits, and we've paid close attention.
Ahead of the 2023 Oscars, revisit the most remarkable red carpet moments from the past seasons below.
Audrey Hepburn, 1954
The actor attended the Oscars in a Givenchy lace gown that would still hold up today on the red carpet.
Barbra Streisand, 1969
Streisand ditched the traditional red carpet gown for a sequined, see-through Arnold Scaasi pantsuit. On this night, she took home the gold for her performance in Funny Girl.
Cher, 1973
Leave it to Cher to bare some skin at the Oscars. The gold embellished two-piece ensemble by Bob Mackie, which totally embraced Cleopatra vibes, felt glamorous and looked great with her '70s-inspired pin-straight tresses.
Diane Keaton, 1976
Always one to skip the dress for an impeccable suit, Keaton opted for a Richard Tyler design. The borrowed-from-the-boys outfit was cool, unfussy, and quirky thanks to the striped shirt and polka-dot-tie combo.
Demi Moore, 1989
There was a lot going on with this look, but we're truly intrigued that Moore donned bike shorts to the Oscars.
Jada Pinkett Smith, 1997
Smith styled her mermaidcore set from Gianni Versace with a belly chain. Many will argue this look was probably more appropriate for the MTV Movie Awards, but we love how carefree she was at the formal soirée.
Celine Dion, 1999
In a sea of gowns, the singer extraordinaire stepped out in a reverse white tuxedo, designed by John Galliano for Dior. Topped with a structural hat by Stephen Jones, the outfit brought high fashion to the red carpet.
Björk, 2001
Arguably the most memorable red-carpet look ever, the infamous swan dress worn by the avant-garde musician had much of the world scratching their heads in confusion. It undoubtedly left its mark in pop culture as many parodies and replications followed.
Halle Berry, 2002
Berry demonstrated early on that the sheer dress can be elegant when executed correctly. The actor won Best Actress for her role in Monster's Ball in this gorgeous Elie Saab gown. It featured a transparent bodice, with embroidered florals and foliage that strategically provided coverage where necessary, and a dramatic skirt.
Sandra Bullock, 2010
We've shed so many tears while watching The Blind Side, so it felt extra sweet to see Bullock take home the Oscar for Best Actress for her role in this film. The designer she chose to wear on her big night? Marchesa.
Angelina Jolie, 2012
The dress, the pose, the gown's thigh-high slit — everything about this Atelier Versace moment left an unforgettable impression on Jolie's fans.
Lupita Nyong'o, 2014
Nyong'o not only dazzled in her powder blue, custom Prada gown, but also had plenty to celebrate as she took home the award for Best Performance by an Actress in a Supporting Role award for 12 Years a Slave.
Jennifer Aniston & Emma Stone, 2015
We all recall this adorable moment where Aniston and Stone ran into each other on the red carpet. They both wore similar shimmery gowns, too, with Aniston in Versace and Stone in Elie Saab.
Gemma Chan, 2019
The Crazy Rich Asians actor brought all the sartorial drama in this hot pink Valentino Haute Couture gown. And guess what was in the dress' pockets? A chocolate chip cookie and rice crackers!
Zendaya, 2022
Everything that Zendaya wears is internet gold, but fans could not get over this Valentino couture shirt and skirt combo at the Oscars. The cropped, menswear-inspired top styled with a sparkly silver skirt was completely unexpected at an award show.
This article was originally published on