Drew Barrymore Has The Most Brilliant (& Simple) Hack For Hiding A TV
Drew Barrymore / Instagram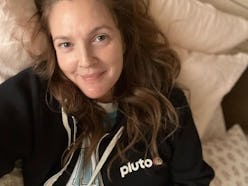 We may receive a portion of sales if you purchase a product through a link in this article.
Though TVs have long been a staple of the American living room, it feels like in the past few years, it's become practically unacceptable to leave them out on display when not in use. Samsung's Frame TV, which doubles as a piece of art, has become uber-popular among tastemakers, and seemingly every DIY influencer on the internet has a tutorial for disguising their own screens. These are undoubtedly good solutions if you're interested in hopping on the trend; that said, the former is pricey, and the latter can often be overly difficult to follow. Fortunately, though, Drew Barrymore actually just revealed her own trick for hiding a TV in a stylish way — and it offers a low-effort (and potentially affordable) alternative.
Blink and you'll miss this hack, it's such a genius and understated solution. If you're a fan of Barrymore's, you may have been following along as she's documented her journey with the M/BODY 10-day Challenge. On day one, the actor and entrepreneur shared a video to discuss her feelings. In the background, there's a TV behind her that looks like it's been jazzed up by a textile wall hanging underneath. A few days later, though, Barrymore posted another video in the same spot. And here's the kicker: The TV is nowhere to be seen. From the video, it looks like it's simply disappeared. But upon closer inspection, it appears to have been tucked away and hidden from view by the piece of art.
If you find it hard to believe there's a television hiding under there, Barrymore actually posted proof a few years back. In 2019, she uncovered her secret in an Instagram post, explaining the details behind the brilliant move. "I absolutely love watching TV in the bedroom, however I don't love the look of a plasma screen on the wall," she wrote in the caption. "It takes away from the femininity of the room...so I went on Etsy ordered a hanging piece of art and did a home hack and when I'm done with my TV I just hide it behind it."
While she didn't delve any further than that, it's easy to guess that Barrymore installed a full-motion TV mount to make this happen — that way, she can pull the screen out from behind the fabric when she wants to watch it, and push it back in when she's done. Of course, this means that any cover you opt for needs to open up in some way like Barrymore's (which looks like it has ropes that can be separated). That said, if you wanted something without that feature, you could install a tapestry (or two) on a rod above the TV and split it apart like a curtain if you don't mind having to manually separate and close your cover.
Barrymore said she got her wall art from Etsy, which is full of similar options at various price points and with different styles. You can also find endless alternatives around the web, or even DIY your own if you have the skills and want to save money. And if you're totally lost on where to start? You can shop a few similar finds TZR loves, ahead.